Ed Miliband meets President Obama in White House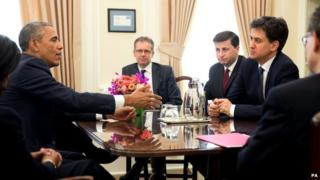 Ed Miliband has met US President Barack Obama in the White House.
The Labour leader said the two had discussed issues including the crises in Ukraine and Gaza, during a meeting said to have lasted about 30 minutes.
The Labour leader and his shadow foreign secretary Douglas Alexander were scheduled to meet Mr Obama's national security adviser, Susan Rice.
However, it had been widely trailed that Mr Miliband would have a "brush-by" encounter with the US President.
David Cameron held a meeting on a similar basis with President George W Bush in 2007 when he was opposition leader, as did Tony Blair when he met President Clinton in 1996.
The Labour leader is keen to burnish his foreign policy credentials ahead of next year's general election.
'Free-flowing'
Speaking after the meeting, Mr Miliband said: "We had a good and wide-ranging discussion about a range of issues, including the situation surrounding the Malaysian airliner and our approach to Russia.
"We talked about the situation in Gaza, we talked about Britain's engagement in Europe. It was a good and wide-ranging conversation about many of the issues the world is facing."
Mr Miliband, who met Mr Obama on his 2011 state visit to the UK, earlier gave a speech to a think tank in the US capital as well as holding meetings with other political leaders.
Mr Alexander told the BBC that the US President had "joined" the scheduled meeting with Ms Rice and that he and Mr Miliband had had a "free-flowing" and "very positive set of discussions" about the "most immediate and pressing" security and economic challenges facing the two countries.
A White House spokesman said the president and Mr Miliband had "affirmed the strong ties that bind the United States and the United Kingdom".