Conservative MP David Ruffley to stand down in 2015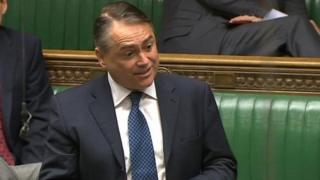 Tory MP David Ruffley is to retire from Parliament at the next election.
The MP for Bury St Edmunds had been under pressure after accepting a police caution for a common assault on his former partner earlier this year.
In a letter to his party, he said that he had apologised for his actions and had "considered the matter closed".
But he said a "protracted media debate" about his future would not serve the interests of his party and he was leaving with a "heavy heart".
Mr Ruffley, who was first elected in 1997, received a police caution for an incident in central London in March but he only made his first public comment on the issue a week ago.
'Unrelenting intrusion'
Local activists in his Suffolk constituency had been due to discuss Mr Ruffley's future at a meeting on Thursday and a petition calling on him to stand down had attracted more than than 40,000 signatures.
Among those calling on him to consider his position was the Dean of St Edmundsbury cathedral, the Very Revd Dr Frances Ward - who had sent him a letter reminding him of the "seriousness of the assault".
---
Analysis by Andrew Sinclair, BBC East Political Correspondent
"It had to happen - this was becoming a car crash," said one Tory official tonight.
Ever since that letter from the Dean of St Edmundsbury chiding Mr Ruffley became public, the general consensus within the Conservative Party was that it was only a matter of time before the MP was made to stand down.
His mistake was to refuse to make any comment about his arrest, in the hope that the story would go away.
But domestic violence is a very live issue. Women's rights groups have been lobbying Parliament to take the issue more seriously. MPs regularly meet victims in their weekly surgeries. An online petition calling for him to go collected 40,000 signatures within three days.
But this has not been the Conservative Party's finest hour. For a month it insisted that the matter had been dealt with by the police and the case was now closed. MPs refused to condemn him, his local association expressed support for him. Women's groups found the wall of silence offensive.
David Ruffley, a finance specialist and a shrewd observer of the Westminster scene, loves politics. His decision to stand down will have been a very hard one to take.
---
In a letter to Andrew Speed, the chair of his local Conservative association, the 52-year old MP said he had apologised for what he said was a "very regrettable incident" and had hoped to move on.
But he said he had "reluctantly come to the conclusion that a protracted media debate on my private life, whatever the motivation or however misinformed, would not serve the wider interests of the Conservative cause in East Anglia".
He added: "Nor at a human level, am I prepared to continue to sustain the unrelenting orchestrated intrusion into my private life... It is therefore with a very heavy heart that I wish to inform you that I will not stand again at the 2015 general election."
'Deeply personal'
Conservative Chief Whip Michael Gove said: "I am sorry that Mr Ruffley will be standing down at the general election in May 2015, but fully respect his reasons."
Mr Ruffley, who is a member of the Commons Treasury select committee, has said the incident earlier this year remains a "deeply personal matter" and has stressed that he would "never condone domestic violence under any circumstances".
He was re-adopted as a Tory candidate for the 2015 election last year, before the incident took place, and the party will now need to find a new candidate to contest the seat.
Bury St Edmunds is a safe Conservative seat, Mr Ruffley having won a 12,380 majority in 2010.
But the Taxpayers Alliance said Mr Ruffley's constituents had a right to decide whether he should continue in the job until April 2015 by staging a "recall" election.
Mr Ruffley suffered "minor injuries" soon after his 2010 election victory when he was hit by a train during the rush hour at a London station.
The MP took sick leave from Parliament for several months afterwards. Upon his return, he called for MPs to receive more specialist help to equip them for the "unique demands" of the job.