EU immigration policy: How many will be affected?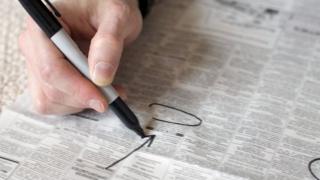 Prime Minister David Cameron has announced a change to which EU migrants in the UK are entitled to claim Jobseeker's Allowance (JSA).
The amount of time that migrants who have not made national insurance contributions will be able to claim JSA (after waiting an initial three months) is being reduced from six months to three months.
How many people will be affected by this change of policy?
To get an idea of this figure, let's start with the maximum possible number, which is 60,100. That's the latest figure (February 2013) from the Department for Work and Pensions for the number of people claiming JSA who were EU nationals from outside the UK at the time when they applied for their National Insurance card.
To get some context, the Office for National Statistics (ONS) estimates that in June there were 1.04 million people claiming JSA in the UK, so it's 5.8% of claimants.
Secretary of State for Work and Pensions Iain Duncan Smith has been using the figure of 121,000, which comes from the same report but is the number of people claiming any type of working-age benefit. As today's policy is about jobseekers that is not as useful a figure.
The prime minister said the policy would also affect claims for child benefit, but that is only child benefit being claimed by jobseekers, so it does not expand the figures.
We are interested only in those who have been claiming JSA for between three and six months because EU migrants are already unable to claim for more than six months and they will still be able to claim for three.
Extra incentives
The latest ONS figures tell us that of those 1.04 million total claimants, 179,500 of them, about 17%, had been claiming for between three and six months.
That's for the whole population, but it would be reasonable to assume that EU migrants do not claim for longer than the population as a whole because they have extra incentives to get a job as a result of the threat to stop their benefits.
So the number of people affected is unlikely to be above 10,000.
Next, you have to subtract the people who have made national insurance contributions. It would be legally tricky to prevent them from claiming JSA and indeed Mr Cameron was very clear that what he wanted to say was: "you can't expect to come to Britain and get something for nothing".
The people we're interested in are the ones who have never worked. Unfortunately we don't have figures to help with what proportion of those 10,000 will have made contributions, but it is likely that many of them will have done so.
We also need to subtract those who, in the prime minister's words, "had very clear job prospects". Finally, we need to deduct those who have taken on UK nationality since getting their National Insurance card.
So, it is unlikely that more than 10,000 people, or 1% of JSA claimants, will be affected and it could be considerably fewer.
We have no idea how much this policy will save. The figure of £500m has been trumpeted around as being the Office for Budget Responsibility's estimate of the saving over five years.
But the OBR has now said that figure was a valuation for various measures in Budget 2014, and nothing to do with today's announcements.