Ukraine crisis creates high-level tensions in UK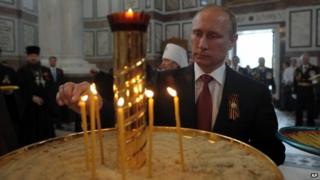 Senior officers in the armed forces and ministers have been at loggerheads about the implications of the Ukraine crisis for Britain's defence.
I've learned that Philip Hammond, as defence secretary, threatened one officer, General Sir Richard Shirreff, with disciplinary action after he gave an interview in March suggesting the armed forces were not capable of meeting this new challenge.
Gen Shirreff, who was the outgoing deputy supreme commander of Nato at the time, said Russia's actions in Ukraine were a "paradigm shift" that required Britain to "prioritise defence".
When the general said much the same to the House of Commons defence committee in July, Mr Hammond dismissed it, arguing "[Gen Shirreff] can speak only for himself but he does not speak for the department".
The committee published a report on Thursday in which it sided with the general, saying: "Nato is currently not well prepared for a Russian threat to a Nato member state."
It added that "events in Ukraine seem to have taken the UK government by surprise".
It recommended a series of steps to ensure the Western alliance could respond to a Russian threat to one of its members.
'Excessive petulance'
People familiar with recent Nato and Ministry of Defence assessments have told me that Gen Shirreff was doing no more than expressing recent classified assessment of what the alliance needs to do to remain credible.
Yet Mr Hammond told the defence committee that the general's views did not reflect those of the government or Nato.
One person familiar with the recent rows accused Mr Hammond of "excessive petulance" in his response to the general and others who have tried to start a debate about whether defence cuts need to be revisited in the light of recent events.
A senior Whitehall figure set the remarks of Mr Hammond, who is now foreign secretary, in the context of his battle to get MoD spending under control, prevent special pleading by senior officers, and a government desire to control the message about what events in Ukraine might mean for defence budgets or foreign policy more broadly.
He commented that Mr Hammond's departure should allow the MoD to "restore the balance" in spending more to prepare for possible contingencies in Eastern Europe.
Gen Shirreff is just one of several senior officers who have tried to press the case for changes in defence priorities in response to Russian President Vladimir Putin's actions.
'Political indecision'
Mr Hammond though, who made it a personal mission to balance the department's books, was reluctant to sign off on new spending commitments.
Frustrations between the chiefs of staff and their boss showed themselves earlier this month when Air Chief Marshal Sir Andrew Pulford accused politicians of indecision, and "making it up as they go along".
Mr Hammond's replacement as Defence Secretary, Michael Fallon, welcomed the defence committee's report and insisted that steps would be taken to improve the defence of Nato members such as Poland and the Baltic republics.
He said there would be more joint exercises and that Nato was also "looking at pre-positioning equipment on the eastern border and we are looking at more that can be done in terms of deterrence".
The recent differences within the MoD and the government more widely about whether the Russian challenge to Eastern Europe requires new spending, as well as military commitments, are set to intensify as work gathers pace in Whitehall on the next strategic defence and security review.
It is due to be completed next year.