Ex-minister Luff condemns 'brutal' Israeli Gaza attacks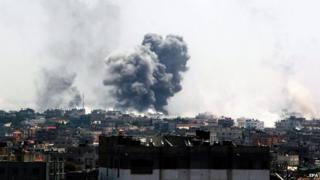 A former UK defence minister has accused Israel of "brutal" attacks on Gaza after a short-lived ceasefire collapsed amid mutual recriminations.
Peter Luff said Israel's response to Hamas attacks was "disproportionate" and said the UK needed to send a message to Israel that its actions were "becoming very difficult to justify".
He is the latest MP to call on No 10 to take a firmer stance on the conflict.
Foreign Secretary Philip Hammond said both sides had to act proportionately.
Mr Hammond said his priority was to use his influence to "get to a ceasefire", telling BBC News: "We urgently need a humanitarian ceasefire. Ending the suffering of the people of Gaza is the number one priority.
"Afterwards, we can talk about all the issues that both sides have. We can put them all on the table. But we have to act to influence both sides of this conflict in order to end it."
The UN-brokered humanitarian ceasefire, intended to last 72 hours, ended after less than five hours, with both sides blaming each other.
'Deliberately operate'
Mr Hammond said it was "extremely depressing" that the ceasefire had broken down so quickly, adding that if reports Hamas had broken it were true it would be "very serious indeed".
Scores of people have reportedly been killed in fresh clashes while Israeli forces are searching for a soldier believed to have been captured.
The soldier has been named as Hadar Goldin, 23, although Hamas has nether confirmed nor denied capturing a soldier.
Mr Hammond said the Foreign Office was looking into reports that Mr Goldin has dual British-Israeli nationality but had "no information to support this" at the moment.
Meanwhile, Labour leader Ed Miliband urged Prime Minister David Cameron to put "maximum pressure on both sides for an unconditional ceasefire" in Gaza, saying the "terrible carnage" had to stop.
Asked whether Parliament should be recalled, he told BBC News that idea should be kept "under review" and assessed over coming days.
Israel has said it is defending itself from attacks by Palestinian militants and blames Hamas for civilian deaths in Gaza, saying fighters deliberately operate from civilian areas.
'Ceasefire now'
Writing in the Guardian, Deputy Prime Minister Nick Clegg stated: "It is difficult to deny that Israel's military action appears disproportionate and, combined with the Gaza blockade, is resulting in the collective suffering of the Palestinian people."
He also criticised Hamas, saying it used its tunnels to "terrorise Israeli civilians".
Mr Clegg said even if Israel defeated Hamas, a "similar movement will undoubtedly emerge from the destitution and despair" of Gaza, so people on both sides must "find the courage" to call for an end to military action.
"Modern history teaches that you can't shoot, occupy or besiege your way to lasting security," he added.
"Peace only ever flows from sustained and stubborn engagement."
Labour MP Richard Burden, chairman of the Britain-Palestine all-party parliamentary group, said there must be a renewed drive for peace.
"That means a ceasefire now, and tackling the blockade - which is one of the root causes of the escalation in conflict we have seen over the past weeks," he said.
'Intense bombardment'
Mr Luff, a Conservative MP who was a defence minister between 2010 and 2012, said the Israeli government had an "absolute right" to protect its people from rocket attacks from Hamas militants.
And while he said it was impossible to avoid civilian casualties in such a densely populated area, he said the reported death toll of more than 1,500 Gaza residents - including hundreds of children - was unacceptable.
"I am clear that Israel, in particular, needs to be much more careful about how it reacts to Hamas' extreme provocation," he told BBC Radio 4's World at One.
"We have seen very intense military bombardments of residential areas of Gaza, using non-precision munitions.
"I am convinced that Israel's very sophisticated intelligence-gathering machinery and its high-tech defence industries could do much better in terms of pinpointing and targeting the attacks it is making on the Hamas war machine."
'Just not working'
Tory MPs to raise concerns in recent days included former Foreign Office minister Alastair Burt and Margot James, a parliamentary aide to Commons leader William Hague.
In a letter to Mr Hammond, Ms James said her constituents believed Israeli actions to be "wholly disproportionate to the threat posed by Hamas" and called for a much tougher stance from the UK.
Since Israel began its offensive in Gaza on 8 July, more than 1,420 Palestinians have been killed and 8,265 injured, most of them civilians, according to the health ministry.
Israel says it will not stop its operation in Gaza until all the tunnels, which militants use to infiltrate Israeli territory, have been destroyed. Hamas has called on Israel to lift its blockade of the territory.