World War One: The speech that made the case for war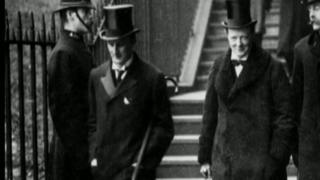 One hundred years ago this summer Britain and her Empire stood on the brink of war. Frantic last-minute diplomacy had come to nothing - and armies were mobilising across Europe.
On the afternoon of Monday 3 August 1914, the British Foreign Secretary, Sir Edward Grey, headed to the House of Commons to deliver the speech of his career.
Sir Edward had built a reputation as a peacemaker. But now he was confronting disaster. In the Commons, he would have to make the case for war.
Adrian Graves, Sir Edward's great-great nephew, insists his relative was "no warmonger" and gives a remarkable insight into the pressure he was under at that historic moment.
He says a document he recently discovered among the papers of his grandfather - Sir Cecil Graves - suggests that the King himself, George V, was drawn into the diplomatic manoeuvrings.
'Find a reason'
After a meeting with the King in 1933, Sir Cecil recorded that George V recalled meeting Sir Edward two days before the outbreak of war 19 years earlier.
His account states: "He told me that Uncle Edward said he could not possibly see what justifiable reason he could find for going to war. His Majesty said in reply: "You have got to find a reason Grey!""
Sir Edward Grey's own memoirs make no mention of the conversation although he admitted that it was difficult to recall the exact events of the opening days of August 1914 due to the pressure "of almost continuous Cabinets and of immense strain".
As German forces mobilised with the aim of moving through neutral Belgium en route to France, the King of the Belgians, Albert I, sent a personal appeal to George V.
Sir Cecil's note adds: "The next day he had a private letter from President Poincare of France urging our participation in the war.
"And almost at the same time a telegram arrived from King Albert of Belgium about the violation of Belgium. He sent this [the King] straight across to Uncle Edward with a note to the effect that there was the reason and there was no need for him to try and think of anything".
Sir Edward read out the appeal from Albert I as part of his 75-minute speech, in which he insisted that he had done all he could to avert war but admitted that the "it is clear peace of Europe cannot be preserved".
The Commons was so crammed that day that seats had to be put in the gangways to accommodate all those who want to listen.
Britain's move to war in August 1914 was bitterly opposed by many in the ruling Liberal Party. Although two Cabinet ministers resigned, Sir Edward managed to carry the House of Commons with him.
'Dry tinder'
There was no vote on his statement but all the party leaders, with the exception of Labour's Ramsay Macdonald, backed the government of Herbert Asquith.
"It won't go down in any anthology," Lord Hurd, Conservative foreign secretary in the 1980s, says of the speech.
"It wasn't a Churchill-type speech but it just fitted the moment," he reflects. "The House of Commons accepted it and the nation accepted it."
There are others, however, who believe Sir Edward did not do nearly enough to silence the drumbeat of war in the years running up to the start of the conflict.
Former Labour foreign secretary Lord Owen says Sir Edward, who in ten years as foreign secretary had only travelled abroad once, should have done more to "avoid all the dry tinder that was around in Europe and could at any time have produced a war".
"I don't think he was a great foreign secretary but he was not a bad man," he believes. "He did his best but his best was not up to it frankly."
After his speech, Sir Edward returned to the Foreign Office that night in some despair - slamming his fists on his desk and crying: "I hate war, I hate war."
From his office window that night he saw a lamplighter lighting up the street lights and uttered the famous words: "The lamps are going out all over Europe. We shall not see them lit again in our lifetime."
Foreign secretaries down the ages have continued to feel the resonance of that moment.
"You can't work in the Foreign Office without the past visiting you quite often, all the great men who have operated from that spot in that room," says Lord Hurd. "It has a powerful effect."
To War, a special programme telling the story of Sir Edward Grey's speech and the countdown to war, will be broadcast broadcast on BBC Parliament at 2000 BST on 3 August.