Outgoing migration inspector John Vine criticises management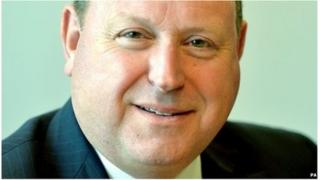 Poor management is hampering efforts to improve Britain's border controls, outgoing watchdog John Vine has warned.
He also said the immigration issue had become "toxic," in an interview with the Independent newspaper.
Mr Vine quit last week as chief inspector of borders and immigration, six months earlier than planned.
The Home Office said Mr Vine's reports had shown it inherited a "chaotic" immigration system, saying its reforms were "already bearing fruit".
But Labour said his "extraordinary" comments showed Home Secretary Theresa May had lost her grip on the immigration system.
During his near six-year tenure, Mr Vine published 50 reports, including findings that exposed huge backlogs in the now-defunct UK Border Agency.
'Cynical ploy'
Mr Vine, who will step down from his role in December, told the Independent: "There needs to be an improvement in leadership and management skills.
"One of the things that really concerns me at the moment is that we keep coming across a lack of quality assurance."
Speaking more broadly about the issue of immigration, he said: "It has become very political and is a toxic mix of issues.
"It has connotations around national security, about tackling organised crime and preventing terrorism."
Mr Vine rejected speculation he had resigned because he had become frustrated that Home Secretary Theresa May had taken direct control of when his reports were published, after she had brought the quasi-independent UK Borders Agency back into the Home Office.
He told the Independent he had expressed his reservations over those changes to Mrs May, but added: "That's a matter for her."
A Home Office spokesman said: "John Vine's reports showed the system we inherited was chaotic and could not cope with the uncontrolled immigration we saw under the previous government."
The Home Office pointed to the decision to split up the "weak and ineffective" UK Border Agency.
The spokesman added: "That decision - along with our other immigration reforms - is transforming our broken immigration system and replacing it with one that is fair to British citizens and legitimate migrants and tough on those who abuse the system and flout the law."
Labour's shadow immigration minister David Hanson said Mr Vine's "expert opinion" makes clear the home secretary "hasn't got a grip on immigration and simply isn't delivering an effective, efficient or secure immigration department".
He added: "The home secretary just can't seem to get a grip and make our borders safe, but instead of sorting out the problems that have been highlighted to her she's changed the way inspection reports are published so she can bury the bad news.
"It's a cynical ploy and means nothing is being done to fix the huge problems in our borders and immigration service.
"It's unacceptable and we need real progress on these problems and a secure border now."