Baroness Warsi's replacement is announced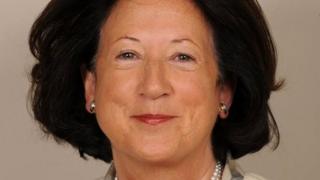 The government's chief whip in the House of Lords is to replace Baroness Warsi as a Foreign Office minister, with the right to attend cabinet.
Baroness Anelay of St Johns - a former teacher and Citizens Advice Bureau boss - has been in the Lords since 1996.
Lord Taylor of Holbeach is the new Lords Chief Whip, No 10 said.
Lady Warsi quit the government on Tuesday in protest at what she called its "morally indefensible" policy on Gaza.
Lady Anelay, a former secondary school history teacher who served as a magistrate in Surrey during the 1980s and 1990s, graduated in 1968 from Bristol University.
She was also a member of the Child Support Appeals Tribunal and the Women's National Commission. She has held a number of front bench posts in the House of Lords.
Other changes in what amounts to a mini-reshuffle, following Lady Warsi's surprise departure, include former Conservative MP Lord Bates, who replaces Lord Taylor as parliamentary under secretary of state at the Home Office.
'Tory unease'
Communities Secretary Eric Pickles, who paid warm tribute to Lady Warsi on Tuesday, will take over her faith brief, in addition to his existing responsibilities.
Reacting to her resignation on Tuesday, Mr Pickles said: "I'm sorry that she has gone. I don't think it was a necessary resignation."
He added: "My view is that what both sides need to do is an immediate and unconditional ceasefire, and I hope the present ceasefire will hold."
After resigning on Tuesday, Lady Warsi said there was "unease" among Conservative backbenchers and "concern" at ministerial level over the government's position on Gaza, adding: "I've had a minister in a late-night conversation talking about resignation."
In her letter to the prime minister, Lady Warsi - the first Muslim woman to serve in a British cabinet - said: "I must be able to live with myself for the decisions I took or the decisions I supported. By staying in government at this time I do not feel that I can be sure of that."
'Respect'
Mr Cameron replied that he understood her "strength of feeling on the current crisis", adding the situation in Gaza was "intolerable", but he rejected her call to change direction.
"Our policy has always been consistently clear - we support a negotiated two-state solution as the only way to resolve this conflict once and for all and to allow Israelis and Palestinians to live safely in peace," he said.
Culture Secretary Sajid Javid said he had a "great deal of respect" for Baroness Warsi, adding that she had done "excellent work" for the Conservative Party and in government.
Speaking after a speech on the economy at Westminster, he said: "She's clearly someone of very clear principles, you don't have to agree with someone's principles to respect them and I think she deserves respect. It is regrettable that she's left government."