Boris Johnson must 'come clean' about ambition - Clegg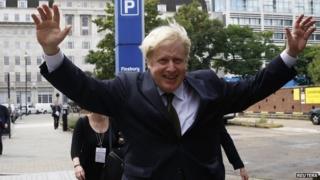 Boris Johnson will have to "come clean" about his true intentions if he becomes an MP again, Deputy Prime Minister Nick Clegg has said.
Mr Clegg said the London mayor was a far more "conventional" politician than he liked to appear and was "fixated with his own political ambition".
Mr Johnson ended months of speculation on Wednesday by confirming he will run for Parliament in 2015.
The move raised questions about whether he is planning a Tory leadership bid.
Asked about whether he wanted to take over from Mr Cameron, Mr Johnson said: "I think it's highly unlikely that that will happen because there's no vacancy. I think David Cameron has been a brilliant prime minister."
'Grenades'
But Mr Clegg - who has traded verbal blows with Mr Johnson in the past - warned voters not to be taken in by his public persona.
"Behind all the clumsiness and bumbliness he is actually a really, really ambitious politician. And you don't need to begrudge him that." the Lib Dem leader told LBC radio.
"He treats his political ambition like he treats his hair. He wants everyone to think he does not care but actually he really, really does care."
He said Mr Johnson "will have to come clean about the fact he is a much more conventional politician than he likes to appear".
The deputy PM claimed Mr Johnson was "absolutely fixated with his own political ambitions" and being mayor has allowed him to avoid taking difficult decisions - something he said the mayor would not be able to do if he was in government.
"You can kind of have your cake and eat it. He can lob grenades into the political debate without really having to take responsibility for stuff."
'Great news'
The Daily Telegraph has suggested Mr Johnson could be made business secretary, with particular responsibility for infrastructure, if Mr Cameron is re-elected as prime minister.
The constituency of Uxbridge and South Ruislip, in London, is thought to be top of the list of constituencies where Mr Johnson could stand, after incumbent Tory MP Sir John Randall announced earlier this year he would retire and not defend his more than 11,000 vote majority.
A source in the Uxbridge Conservative Association told The Times Mr Johnson would have to move quickly if he wanted to secure the seat.
The source said: "The selection process is now set in motion. We're gearing up for it and the association will make a final choice on 12 September.
"So if Boris wishes to apply for the constituency, he's got to get his intentions known to central office pretty quick. If he wants to throw his hat in the ring, he'll have to do it over the next week or so."
David Cameron, who is on holiday in Portugal, greeted news of Mr Johnson's intentions with a tweet: "Great news that Boris plans to stand at next year's general election - I've always said I want my star players on the pitch."
Conservative Party chairman Grant Shapps told the BBC he was "delighted" about the news, describing the London mayor as an "Olympic gold" politician.
And Culture Secretary Sajid Javid - a close ally of Chancellor George Osborne, who is also thought to be a likely contender in any future leadership contest - said Mr Johnson's announcement was "fantastic news" for the Conservatives.