Karren Brady and Sir Stuart Rose among new life peers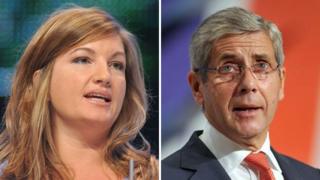 Football boss and Apprentice TV show star, Karren Brady, is among 22 new peers announced by the government.
Ms Brady will take a seat on the Conservative benches in the House of Lords alongside former Marks & Spencer chief Sir Stuart Rose.
Other new working peers include former MEP and EastEnders actor Michael Cashman, who will become a Labour peer.
There are 12 new Tory peers, three new Labour ones, six Liberal Democrats and one DUP member of the Lords.
This takes the total number of peers to 796, compared with 650 MPs in the House of Commons.
Donors ennobled
No UKIP peers were appointed despite a coalition agreement pledge to reflect the 2010 general election vote share in Lords appointments.
Conservative donor Ranbir Singh Suri is among those being lined up for a seat in the Lords. The jewellery tycoon and his company have given more than £300,000 to the party since 2006.
Another Conservative donor, Michael Farmer, who has given almost £6m to the party since 2001, is also set to sit in the Lords.
A Conservative spokesman hit back at criticism of the ennoblement of the two donors.
He said: "Michael Farmer and Ranbir Suri are worthy recipients of peerages - Michael has been involved in numerous charities and a successful academy school and Ranbir is a leading member of the British Sikh community and former magistrate."
In a statement, Mr Farmer said: "I am greatly honoured to be nominated by the prime minister to become a Conservative peer and very much look forward to working and supporting the government in the House of Lords, in particular in its important long-term work for the economy, and in its ongoing reform of our welfare and educational systems."
Two of the former Lib Dem council leaders nominated by Nick Clegg have donated money to their party. Barbara Jenke has given £5,498 since 2010 and Pula Scriven £2,000.
Peers are nominated by the party leaders but are vetted by the independent House of Lords Appointments Commission.
'Huge honour'
Ms Brady is perhaps the best-known of the new Lords members and she has been tipped to be given a ministerial job by Prime Minister David Cameron.
She started her career in advertising but shot to prominence in 1993 when she was made a board member of Birmingham City Football Club at the age of 23 by its then owner, Sunday Sport tycoon David Sullivan.
In 2010 she was appointed vice-chairman of West Ham United and also joined the BBC's Apprentice as one of Labour peer Lord Sugar's advisers.
She was previously a board member of Mothercare, Channel 4 Television and Sport England and is currently a non-executive director of retail giant Arcadia. She has also taken on the role of small business adviser to the government.
Sir Stuart, who worked his way up from a management trainee to head Britain's biggest High Street fashion retailer, has been advising the government since February on how to turn round failing NHS hospitals.
Mr Cashman found fame playing Colin Russell, the first gay character in the BBC's EastEnders, before going on to be a Labour member of the European Parliament and co-founding campaign group Stonewall. He stood down as an MEP this year.
Commenting on his elevation to the Lords, he told BBC News: "It's a huge and humbling honour. And it really takes me back to my roots. I just wish my old mum and dad were alive to see it.
"And it gives me a huge opportunity to continue the work that I am passionate about - international development, human rights and giving a voice to the voiceless."
'Remain involved'
Former Conservative MEP Martin Callanan said he was "very happy" to be made a peer.
He was leader of the Conservative group of MEPs before he lost his seat for the North East of England in the European elections.
Mr Callanan said he was "happy to take up the offer" of a peerage because "I want to remain involved in politics".
__________________________________________________________
The new Conservative peers
Karren Brady, vice-chairman of West Ham United FC and senior non-executive director of the Syco and Arcadia brands
Martin Callanan, former Conservative MEP for North East of England
Carlyn Chisholm, co-chairman of the Conservative candidates committee
Andrew Cooper, former Conservative Party director of political operations, founder of pollsters Populus
Natalie Evans, director of the New Schools Network, the charity advising groups on how to set up free schools
Michael Farmer, founding partner of RK Mine Finance group, trustee of the Kingham Hill Trust and Conservative Party treasurer
Dido Harding, chief executive of TalkTalk Telecom Group PLC
Arminka Helic, government special adviser on preventing sexual violence in conflict zones
Nosheena Mobarik, businesswomen, founder of the Scotland Pakistan Network
Sir Stuart Rose, former chief executive and chairman of Marks & Spencer
Joanna Shields, digital adviser to David Cameron, chairwoman of Tech City UK
Ranbir Singh Suri, businessman, formerly general secretary of the Board of British Sikhs
The new Labour peers
Michael Cashman, former MEP for West Midlands MEP, former actor
Chris Lennie, former deputy secretary general of the Labour Party
Dame Gail Rebuck, chairman of Penguin Random House UK publishers
The new Liberal Democrat peers
Chris Fox, PR director at GKN engineering and former Lib Dem chief executive
David Goddard, former leader of Stockport Council
Barbara Janke, former leader of Bristol City Council
Kath Pinnock, former leader of Kirklees Council
Paul Scriven, former leader of Sheffield City Council
Dr Julie Smith, senior lecturer in international relations in the Department of Politics and International Studies (POLIS), Cambridge University
The Democratic Unionist Party has nominated William Hay MLA, the Speaker of the Northern Ireland Assembly, who has chosen to sit on the crossbenches.