What does it take to get MPs back to Westminster in August?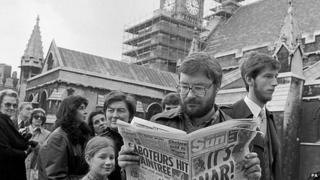 War, death and riots are the kinds of events that have triggered a recall of Parliament over the years. So does the humanitarian crisis in the mountains of Iraq pass the test, asks BBC Parliamentary Correspondent Susan Hulme.
The 9/11 attacks, the Suez crisis, and the death of Margaret Thatcher were all considered serious enough for the government to call MPs back to Westminster in the middle of a parliamentary recess. It has happened 27 times since 1948.
The most recent was just last summer, when the Commons and the Lords came back to discuss Syria, leading to a government defeat on any possible UK military involvement.
So maybe David Cameron wished he had not bothered in the first place - after all, the rules say only the prime minister has the right to ask for a recall. He or she makes a request to the Commons Speaker, who has the final say.
MPs, or even the Leader of the Opposition, can beg and plead - but they have no power to force ministers to come and be held to account.
The fuel protests in the early autumn of 2000 led to demands for a change to those rules. The Commons was in recess for nearly two months, while farmers and lorry drivers, furious at the high price of petrol and diesel, protested at the gates of oil refineries.
As supplies to petrol stations dwindled, there was panic buying. Drivers queued through the night to fill up.
But Tony Blair's government did not want to recall Parliament to discuss its handling of the crisis, and there was nothing ordinary MPs could do about it.
There was a later move to let the Speaker decide if events were serious enough to warrant a recall. Somehow, though, that never came to pass.
But usually everyone can agree to reconvene Parliament on matters of life, death and war.
On 3 April, 1982, the Commons was recalled for an extremely rare Saturday sitting, to discuss Argentina's invasion of the Falkland Islands.
The Prime Minister Margaret Thatcher said: "The House meets this Saturday to respond to a situation of great gravity. We are here because, for the first time for many years, British sovereign territory has been invaded by a foreign power. After several days of rising tension in our relations with Argentina, that country's armed forces attacked the Falkland Islands yesterday and established military control of the islands."
Shortly after 11am, she announced: "The Government have now decided that a large task force will sail as soon as all preparations are complete. HMS Invincible will be in the lead and will leave port on Monday."
Of course - MPs who want to be in the Chamber for that kind of historic occasion can face a hefty travel bill to get back in time.
Many may be abroad on parliamentary visits or, though they hate to admit it, on a family beach holiday abroad.
There is help available - travel expenses will be paid, to a maximum of £3750 per MP. And since there are 650 MPs - democracy could get expensive if they all turned up, and claimed the full amount.