Douglas Carswell: Reaction as Tory MP defects to UKIP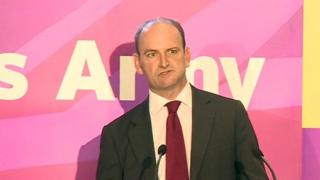 Conservative MP Douglas Carswell has defected to UKIP, saying leaders of his former party are "not serious about real change in Europe".
He said Tory leaders planned to renegotiate Britain's position in the Europe "just enough" so voters would choose to stay in the EU at the referendum promised by David Cameron.
And Mr Carswell said "everything that they're doing" was being done to win the election - so the party's policy amounted to "change so that everything can stay the same".
But what have others made of his comments?
---
Prime Minister David Cameron
"It's obviously deeply regrettable when things happen like this, when people behave in this way, but it's also in my view counter-productive. If you want a referendum on Britain's future in the EU - whether we should stay or go - the only way you can get that is to have a Conservative government after the next election. That is what until very recently Douglas Carswell himself was saying."
---
UKIP leader Nigel Farage
"I'm delighted that Douglas Carswell has joined us. He's been a very clear and principled politician ever since he went into Westminster. But I think to not just defect to UKIP but to be noble enough to say 'let's put this to a by-election' is one of the most remarkable things I've seen in my political lifetime."
---
Labour leader Ed Miliband on Twitter
"Douglas Carswell's defection is not just a blow to David Cameron. It shows the Tory party is too divided to stand up for hard-working families."
---
Dr Matthew Goodwin of Nottingham University
"We mapped all constituencies according to how favourable they were to UKIP based on the types of voters that were in those seats. Clacton is the most favourable seat for UKIP in the country. The only thing that was preventing us as academics from pointing this seat out was in fact Douglas Carswell's large majority, which is 28%... I do not think he will struggle at all to win election under the UKIP banner."
---
Mick Page, Conservative leader of Tendring District Council, which covers Clacton (Mr Carswell's constituency)
"That's come as a shock - a bolt from the blue. We always thought he was a Conservative very much against Europe but we thought he would work within the party to achieve his aims. As far as I'm aware the Conservative Association had no warning of this."
---
Tendring District Council's Labour leader, Ivan Henderson
"He's seen the vote increasing for UKIP, seen the possibility he could lose his seat and panicked. Douglas has always been a maverick in terms of his party but this is an opportunistic move because he's seen it slipping away from him.
---
Conservative Party spokesman
"This is a regrettable and frankly counter-productive decision... the only way to get a referendum on the EU is to return a majority Conservative government. The Conservative Party will contest the forthcoming by-election vigorously to make sure the people in Clacton have a strong Conservative voice in this parliament and the next."
---
Labour's shadow Cabinet Office minister Michael Dugher
"Douglas Carswell's defection is a hammer blow to David Cameron. Confidence in David Cameron is collapsing inside a Conservative Party which is divided and running scared of UKIP. David Cameron's weak leadership has seen him abandon the centre ground, repeatedly trying to pander to his own right-wing backbenchers rather than concentrate on the needs of the country."
---
BBC political editor Nick Robinson
"This is a body blow to [David Cameron]. I'm told that he had absolutely no warning of this, that the first the Conservative Party knew about the defection was when they saw it at that UKIP news conference. And the reason it's a body blow is not because Mr Carswell is a household name, not because one UKIP MP will change the dynamics of the House of Commons, but because it changes the narrative of politics and also because it will fuel fear in the Tory ranks."
---
Conservative MP Mark Pritchard
"The only party that's going to be able to deliver a referendum after the next general election is the Conservative Party, and that's why I will be remaining a member of the Conservative Party... The fact is that this is no surprise. Douglas has been flirting with UKIP for some time now."
---
Sir Bob Russell, Lib Dem MP for neighbouring Colchester
"He's so far to the right of the Conservative Party that I've wondered for a long time how he could remain a Conservative. This is a huge embarrassment for the Conservative Party, although when David Cameron refers to wide-eyed fruitcakes, you've only got to look at Douglas Carswell to see the kind of person he was talking about."
---
Labour MP Tom Watson
"So @douglascarswell defects to UKIP. He's eccentric and maverick, I disagree with him on nearly everything but can't help admiring him."
---
Conservative MP Bernard Jenkin
"He'll regret this because, bluntly, the more Conservative voters defect to UKIP, the more likely it becomes that Ed Miliband becomes prime minister and we get plunged further and further into the European Union, we don't have any kind of renegotiation and we certainly don't have a referendum. Is that what Douglas Carswell really wants?"
---
Conservative MP Nigel Evans, speaking in a video posted on Facebook
"Douglas, I think that you are wrong. You are principled but completely wrong. You and I both wish to ensure the British public have their say in 2017 on an in/out Europe referendum. The only way that is going to happen is if there is a majority Conservative government in 2015. What you have done today is a huge distraction. It's very expensive and totally unnecessary."