Chuka Umunna: Brown 'cuts' denials hurt Labour's credibility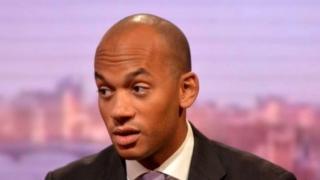 Shadow business secretary Chuka Umunna has blamed Gordon Brown for Labour's struggle to convince voters it can be trusted to run the economy again.
He said the former PM's refusal to use the word "cuts" during the 2010 election made people think Labour was not serious about clearing the deficit.
He also suggested the next election would be the "nastiest" yet.
The comments came in an interview with Labour's former communications chief Alastair Campbell in GQ magazine.
Mr Campbell suggested one reason why Labour was not further ahead in the opinion polls was that it had allowed the Conservatives to blame Labour for the economic "mess" the country was in.
'More energy'
"I do think we need to talk more proudly about our record," said Mr Umunna.
"We do need to explain and rebut this notion that we crashed the car.
"My view is that the seeds were sown under the last government and Gordon [Brown] - for whom I have a lot of respect - his refusal to use the word 'cuts' [as applied to Labour] in trying to frame the economic debate as [Labour] investment versus [Tory] cuts gave the impression we didn't understand that debt and deficit would have to be dealt with."
He added that Labour "left the country in a far better state" than it had been in 1997.
Mr Umunna said he thought it was possible for Labour to win a majority in next year's general election, which would be the "nastiest" to date.
"I don't know if we will but we can, if we make the right calls, if we focus on people and their ambitions and not on the bubble at Westminster," he told Mr Campbell.
He said Labour had "to tell a hopeful, optimistic, aspirational story that relates to their lives".
Mr Campbell suggested "and with more energy". Mr Umunna replied: "With even more energy. And it is a team, not just Ed Miliband, we all have to play our part."
'Substance'
In a separate interview for women's magazine Red, the Labour leader repeated his desire to recruit more women MPs, saying: "We've got to get to 50% in the future, and we've got to get to 50% of women MPs in Parliament for Labour."
He also addressed claims he has an image problem - and that it is damaging his party's prospects of gaining an overall majority next year, suggesting voters wanted "substance" not "triviality".
He dismissed suggestions his wife, Justine Thornton, was about to step into the election spotlight as part of an effort to make him seem "more normal".
Asked about being forced to apologise for posing with a copy of The Sun, he said: "I just thought I was promoting England's World Cup bid.
"But here's the interesting thing, which goes to this point about empathy and decency - the easy thing to do would be never to admit I'd made a mistake."
He also admitted his relationship with his brother David, whom he beat to the Labour leadership in 2010, was still strained.
"It's hard, but yes. We talk quite a bit. About politics, about my mum, what's going on with his kids and my kids... you know," he said.