Clacton by-election to take place on 9 October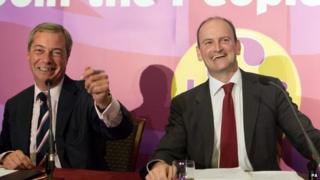 The Clacton by-election is to be held on 9 October, the Conservative Party has said.
The election was triggered by sitting MP Douglas Carswell's surprise decision to defect from the Tories to the UK Independence Party.
If he wins the election, he will become UKIP's first elected MP in Westminster.
Mr Carswell held the Essex seat with a majority of 12,068 at the 2010 general election, having first been elected to Parliament in 2005.
The vote will take place a day after the end of the Liberal Democrat party conference in Glasgow. The date chosen by the Conservatives is also David Cameron's 48th birthday.
The party has yet to chose a candidate to take on Mr Carswell, but Simon Martin-Redman, chairman of the Clacton Conservative Association, said many people had expressed an interest in standing and promised a "robust" campaign.
Labour has chosen Colchester councillor Tim Young as its candidate.
The writ for the by-election is expected to be formally moved in Parliament later on Tuesday.