Pressure grows on Cameron amid hostage threat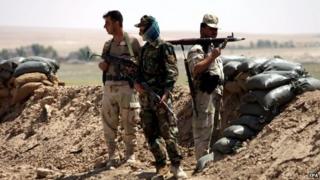 A British hostage will be next to die. That was the clear and chilling message at the end of the latest horrific video produced by the brutal killers of the so-called "Islamic State".
It will have shocked many but it came as no surprise to the prime minister and his advisers who have long known about and been preparing for this prospect and not to the British media who agreed not to report the matter and have now agreed not to name the British hostage involved.
This is the reason David Cameron is likely to repeat today that there will be no "kneejerk response". However, the pressure on him and the pressure on the White House is growing to come up with the strategy which President Obama admitted recently he'd yet to develop.
This is likely to involve both a widening of military action and a widening of the countries involved.
Barack Obama will want the sort of coalition - involving at least the UK, Australia and the Gulf States - which President George Bush senior deployed to pursue the first Gulf War in 1991.
Both Tory and Lib Dem ministers tell me that they see both a moral and a legal case for air strikes in Iraq provided they are requested by the Iraqi government and/or the Kurdish Peshmerga, are backed by a wide number of countries and have a clear military objective.
Syria, they say, is different as they are not prepared to act with President Assad who, in any case, has a fierce air defence system which could threaten coalition jets.
This morning the former Labour Foreign Secretary Jack Straw added his voice to those on the Labour benches backing strikes. Peter Hain and John Woodcock - who was an adviser to former defence secretary Geoff Hoon - have already said so.
Will David Cameron escape from underneath what friends of his describe as the black cloud of British involvement in Iraq?
Ed Miliband backed action in Libya but blocked it in Syria. What will he do now?