Labour MP Jim Dobbin dies aged 73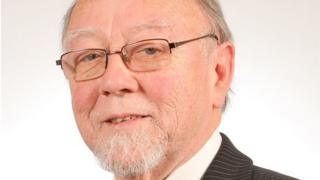 Labour MP Jim Dobbin has died at the age of 73, the party has announced.
Mr Dobbin, MP for Heywood and Middleton in Greater Manchester, was on a trip to Poland organised by the Council of Europe when he died.
The former microbiologist had served as an MP since 1997, and won with a 5,971 majority at the last election.
Labour Party leader Ed Miliband said it was a "sad day for Parliament," adding that Mr Dobbin was a "dedicated public servant".
Mr Miliband added: "I will miss Jim's good friendship and decency.
"On behalf of the Labour Party, I offer our sincere condolences to his wife, Pat, and their children. We will all miss him."
Mr Dobbin was in Slupsk, Poland for a Council of Europe trip. His wife Pat is believed to have been with him.
The trip was to mark the town being awarded the council's 2014 Europe Prize for "promoting the European ideal".
The Council of Europe was set up to "promote democracy and protect human rights and the rule of law in Europe", according to its website.
Mr Dobbin had travelled to Poland on Friday, accompanied by former Deputy Prime Minister Lord Prescott and fellow Labour MP Alan Meale MP. He was due to fly back to the UK on Sunday.
Coal miner's son
The MP was a committed Roman Catholic and in 2008 he was made a papal knight by Pope Benedict.
In parliament, he chaired the Pro Life Committee and was a member of the Involuntary Tranquillizer Addiction Group as well as the Transport Scrutiny Select Committee.
He co-chaired the All Party Parliamentary Group for Child Health and Vaccine Preventable Diseases, and recently called for integrated healthcare for the developing world to help prevent diseases spreading and to improve sanitation.
He voted against the same-sex marriage bill last year and spoke out against the plans in Parliament, saying: "I think MPs who voted for this change will rue the day they did so."
Mr Dobbin was the local MP for Fusilier Lee Rigby, the soldier who was murdered in Woolwich, south-east London, last year.
He said at the time that the death had "absolutely traumatised" people in Fusilier Rigby's home town of Middleton, Greater Manchester.
Mr Dobbin, the son of a coal miner, was born in Kincardine, in Fife.
He went to Napier College, Edinburgh, where he studied bacteriology and virology, before working as a microbiologist for 33 years, 22 of which were for the Royal Oldham Hospital.
'Deeply principled'
Mr Dobbin, who had two daughters and two sons, was elected as a councillor to the Metropolitan Borough of Rochdale council in 1983, where he became group leader in 1994.
Lord Prescott said: "Jim was an excellent local MP, a strong believer in Europe, a proud Scot and a passionate defender of the NHS.
"His passing is such a tragic loss and he will be sadly missed by the Labour movement. Jim was a great comrade."
Commons Speaker John Bercow said: "He was a deeply principled and independent-minded parliamentarian; respected and well-liked by his colleagues, he will be greatly missed."
Ivan Lewis, Labour MP for Bury South, tweeted: "Jim Dobbin was a man of great integrity and decency. Sometimes didn't agree but always respected his sincerity."
Manchester Central MP Lucy Powell tweeted: "Really sorry to hear of the sudden death of Jim Dobbin MP. I only saw him on Friday voting against bedroom tax. He was a great MP."