Former minister raises new horsemeat concerns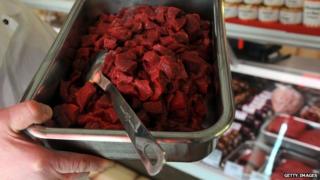 A new horsemeat scandal could "arise" because some European countries have not tackled the causes of the problem, a former farming minister has said.
Lib Dem MP David Heath told a Commons debate more "could and should have been done" by some EU countries.
Food Minister George Eustice said food fraud was "totally unacceptable".
It comes as a Food Crime Unit will be set up in the wake of last year's scandal, which found some beef products were contaminated by horsemeat.
The unit is to be set up following the publication of the Elliott review into the UK's food network.
The review was launched after horse DNA was found in some frozen burgers supplied to several UK supermarkets in January 2013.
Investigators also found other beef products sold by retailers - including lasagne and spaghetti bolognese - were contaminated by horsemeat, while meals in some schools and hospitals had to be withdrawn.
'Organised crime'
Addressing a backbench Commons debate Mr Heath - a former farming minister who helped to lead the UK's response to the scandal - said he believed some EU countries had hoped the problem would go away once the "press and media furore" had passed.
"I am not convinced that others didn't feel actually once the storm had passed it was easier to simply carry on as they did before," he said.
He said "at the root" of the scandal was "large-scale organised crime" based in Europe involving "huge sums of money... and it means that the problem will arise again."
Mr Heath also said he was "very worried" about price wars involving major retailers and supermarkets in the UK.
Some retailers should have asked more questions about how "so-called beef" could travel around Europe and result in eight burgers being sold for £1 in UK supermarkets, he said.
"The more we have these price wars in our supermarkets, the more dangerous it is for good honest suppliers," the Liberal Democrat MP added.
'Absence of leadership'
Earlier Anne McIntosh, chairwoman of the Environment, Food and Rural Affairs Committee, said more public analysts were needed to protect UK consumers.
The Conservative MP said levels of testing "must remain very high".
She said money for food testing and public analysts could be ringfenced, adding it would "put a lot of people's minds at rest".
Shadow environment minister Huw Irranca-Davies said the Government had got its "work cut out persuading industry and consumers that it is serious about tackling food crime and fraud".
"Its track record of delay and dither when facing crisis, its ideological aversion to effective regulation and its wholesale absence of leadership and strategic thinking on food means it is in the dock as a serial offender," he said.
Report recommendations
However, Food Minister Mr Eustice said the Government would not "stand by whilst consumers are duped and deceived".
He said no contaminations had been found during 50,000 tests following last year's horsemeat scandal and that an extra £2 million had been provided to councils to help with consumer protection.
"I would say the integrity of our food supply chain is essential for the great reputation of our exports as well as for the confidence of consumers at home," he said.
Last week, a report commissioned by the government recommended a national food crime prevention network involving unannounced audits and a zero-tolerance approach as a means of protecting consumers.
Professor Chris Elliot called for a "robust, effective" Food Crime Unit to protect the industry and consumers from criminal activity.
The Government has accepted the report's recommendations.