Scotland - Yes or No to protect the NHS?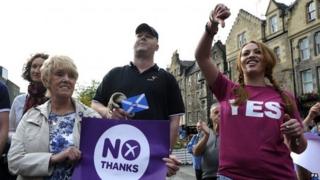 The Unionist parties in Scotland will claim today that they can guarantee that spending on the NHS will not be cut by the next government in Westminster.
They will argue that the new powers they are promising to give the Scottish Parliament in the event of a No vote will allow Holyrood to protect the NHS from another five years of austerity imposed from London.
Labour, the Conservatives and the Liberal Democrats have all adopted policies that would give the Scottish Parliament greater control over the money raised by income tax and other taxes. This, they say, would allow Scotland to tax more and spend more than the rest of the UK.
The Scottish Parliament already controls the policy and budget of the Scottish NHS but the Yes campaign has argued that Treasury cuts in the grant given to the Scottish government limit it's ability to spend what it wants.
Also, they claim that NHS privatisation south of the border is designed to shrink the NHS budget in England which will then have a knock-on for the budget in Scotland.
One of the main underlying causes of the closing of the polls in Scotland has been the switch of Labour voters to supporting Yes driven, at least in part, by the fear that the NHS is under threat from policies being pursued in England.
Alex Salmond has argued that the contracting out of NHS services south of the border amounts to the steady privatisation of NHS services and has proposed that the written constitution of a newly independent Scotland could enshrine the "right to a free public health service".
The No campaign have insisted that he, or any future first minister, would be the only politician with the power to change the NHS in Scotland since it is already a fully devolved power.
---
Got a referendum question?
In a series running up to polling day, BBC reporters, correspondents and editors are looking at the major referendum questions and by using statistics, analysis and expert views shining a light on some of the possible answers.