Minister criticises Russell Brand over anti voting call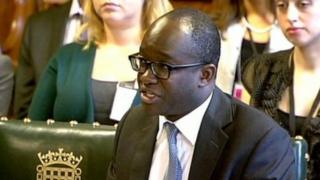 The minister in charge of boosting turnout at elections has criticised comedian Russell Brand for encouraging young people not to vote.
Sam Gyimah told MPs it was "sad" that a "leading celebrity" such as Mr Brand had taken such a stance.
The Conservative MP was giving evidence to the Political and Constitutional Reform committee.
Brand, who advocates revolution, sparked controversy last year when he said voting made no difference.
Labour MP Paul Flynn brought the subject up as the committee grilled Mr Gyimah about what was being done to reverse declining turnouts, particularly among young people.
'Dangerous trend'
The MP said he was reluctant to name the celebrity he had in mind, but eventually conceded it was Russell Brand, "who has got seven million followers on Twitter, which is rather more than we as MPs and politicians have [and] is urging people not to vote".
He asked the minister if he saw this as "a dangerous trend" and whether the government should be trying to recruit "equally attractive" and popular figures to promote participation in elections.
Mr Gyimah, who was promoted to the role of constitution minister in July's reshuffle, said research suggested young people in the UK were not "apathetic" about politics but there was "no one quick fix" when it came to getting into the polling booth at election time.
The government was working with organisations such as Bite the Ballot, UK Youth and Scottish Youth to get young people to register to vote, he told MPs.
The Conservative MP added: "In a democracy as old as ours we should expect higher levels of voter engagement and participation. And it is incumbent on all of us to make sure we help deal with it.
"And it is sad when a leading celebrity feels they can encourage people not to vote and that video gets more hits on YouTube than any political interview. It is a travesty of where we are."
Mr Flynn suggested part of the problem was that government policies favoured those who were registered to vote, such as "rich pensioners like myself" over those that were not, such as young people on benefits.
Electronic voting
Mr Gyimah said: "We have go to make young people aware that they should have their voice heard and if they make their voice heard then government policy will reflect their concerns. Not to say that it doesn't at the moment."
He said it was "inaccurate" to suggest that the current government was ignoring the concerns of young people, stressing that the decline in voting in that group was a long-term trend.
But he said political parties held the key to boosting turnout by putting forward more appealing policies - and he rejected calls to make it easier to cast a ballot, such as weekend voting or electronic voting, telling the MPs there were "more downsides than upsides" to these ideas.
Russell Brand sparked the controversy last October when he told the BBC's Newsnight: "There is going to be a revolution.
"Don't bother voting. Stop voting stop pretending, wake up, be in reality now. Why vote? We know it's not going to make any difference."
Turnout among 18-24-year-olds went up 13% at the 2010 general election, compared with 2005, although at 51.8% it still remained the lowest of all the age groups.
Turnout among the over 65s was 74.7%, the highest of any age group.
In 1964, turnout among young people was running at about the same level as the over 65s but has been in decline ever since, according to research by the House of Commons Library.