Scots Yes vote 'may cut English and Welsh energy bills'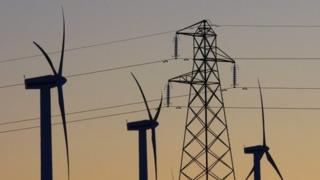 Scottish independence could lead to cheaper energy bills for consumers in England and Wales, senior industry sources have told the BBC.
The UK government claims independence would see Scottish bills soar to pay for renewable energy projects.
The SNP rejects this and has promised a 5% cut in bills if Scotland votes Yes.
Energy industry sources say it all depends on how subsidies for Scottish wind and tidal projects - currently shared across the UK - are divided up.
"One scenario is that the charges to English customers go down. Now you can imagine what some people in Scotland would think about that," a senior figure with one of the "Big Six" energy firms told BBC News.
According to an analysis published by Lib Dem energy secretary Ed Davey in April, Scotland would need to meet the full cost of subsidies for the renewable energy schemes currently under construction there.
Mr Davey claimed this would add hundreds of pounds to annual household energy bills in an independent Scotland.
Transmission costs
The SNP dismissed Mr Davey's paper as "yet more scaremongering". It argues that the rest of the UK would rely on imports to meet its green power obligations and "plentiful Scottish electricity generation" can help keep bills down across the UK.
The key question is what happens to the UK-wide Renewables Obligation if Scotland votes for independence.
Under the existing system a surcharge goes on bills across the UK to pay for renewable energy schemes. A far bigger proportion of these schemes are based in Scotland, but the majority of energy consumers are in England and Wales, meaning English consumers effectively subsidise Scottish projects.
If there is a Yes vote next Thursday, the industry expects the subsidies to carry on until the negotiations on independence are finalised in early 2016.
After that, said another industry source, "we would expect renewable costs for English and Welsh customers to go down".
Another reason for expecting lower bills in England and Wales, he added, is that transmission costs are higher in Scotland, thanks to the relative low population density compared to the amount of infrastructure needed to reach customers.
"You would expect to see transmission costs go down for customers south of the border. Certainly you would expect to see a reduction in costs south of the border and an increase in costs north of the border."
More efficient
Industry figures say very little contingency planning has been done to prepare for the consequences of a Yes vote and all of the details - including who foots the bill for the Renewables Obligation - would need to be hammered out afterwards.
The SNP's deputy leader Nicola Sturgeon argued last year that an independent Scotland would remove energy saving levies - including the warm home discount - imposed by Westminster on Scottish energy consumers.
She said the current system would be replaced by a more efficient, joined-up approach with funding for fuel poverty schemes - worth up to £200m per year - coming directly from the Scottish government.
She told the SNP's annual conference: "We estimate that it will cut energy bills by around 5% - or £70 a year."