Hammond warns of risk of Middle East 'terrorist haven'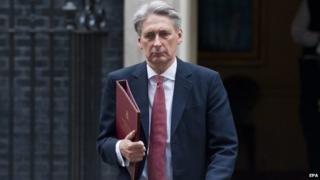 The potential return of radicalised jihadis was "directly responsible" for the decision to raise the UK's terror threat level, Philip Hammond has said.
The foreign secretary said the prospect of hundreds of British nationals coming back to carry out attacks was one of the most serious threats to security.
Left unchallenged, Islamist militants could turn much of the Middle East into a "terrorist haven" he told MPs.
The threat level was raised from substantial to severe last month.
This means that a terrorist attack in the UK is highly likely, although ministers have made clear that there is no intelligence pointing to an immediate threat.
Opening a debate in the Commons about the implications for UK security of the conflicts in Iraq, Syria and Ukraine, Mr Hammond said they had created an "arc of instability".
"This summer has seen a range and scale of threats to international, and particularly European stability, that if not unprecedented represent a highly unwelcome escalation from the post-Cold War norm" he said.
"And alongside them a sharp escalation in the level of homeland security threat."
'Poisonous ideology'
He also warned that left unchecked the Islamic State - whose aim is to form an Islamic caliphate - "could transform swathes of the Middle East into a haven for international terrorism".
He added: "Not only are their actions and poisonous ideology abhorrent to our values and our principles, indeed to the values and principles of all decent people including the overwhelming majority of Muslims, but they also represent a direct threat to Britain's national security."
About 500 British nationals are believed to have travelled to Syria and Iraq with the aim of fighting for militant groups, prompting calls for them to be barred from re-entering the UK.
Mr Hammond said Islamic State would seek to use the territory they controlled as a "launchpad" for attacks in the West, including the UK.
He said: "The potential return to these shores of hundreds of these radicalised jihadis, some of whom will have undergone training in the conduct of terrorist atrocities, represents one of the most serious threats to our national security and was directly responsible for the decision to raise the threat level from terrorism from substantial to severe."
'Catastrophe'
The UK is providing arms directly to Kurdish fighters and has not ruled out taking part in future air strikes against Islamic State positions in Iraq.
Former cabinet minister Ken Clarke warned against the government pressing ahead with military action in Iraq without parliamentary approval, saying this would be a "political outrage".
"Of course we would support the use of British armed force if it was absolutely essential, unavoidable, in support of some crucial national interest and in pursuit of some well thought out and credible policy objective," he said.
But Mr Clarke, one of only a handful of Conservatives to vote against UK participation in the 2003 Iraq invasion, said western policy in the Middle East since the late 1990s had been "catastrophic".
"Leaping into military activity without having a well-judged policy, a well-judged diplomacy, a well-judged strategy behind it, is actually what has contributed to the really extraordinary state of anarchy which has now broken out across the region," he said.
For Labour, Douglas Alexander said there was a "palpable anxiety" in Europe about its ability to respond to the multiple threats it faced but the UK must not be "passive".
"Growing interdependence and the rise of cross-border threats means today that cooperating and collaborating with international partners is more vital to promoting our national interests than ever before," he said.