MPs urge clarity over UK stance on Syrian air strikes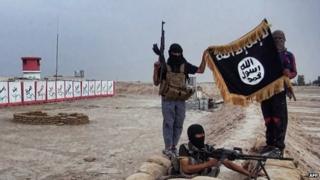 MPs have urged ministers to clarify their stance on air strikes in Syria amid claims of differences between the Foreign Office and No 10.
Conservative MP John Baron said there were apparent "discrepancies" across government over whether such action was being be contemplated.
US rhetoric on intervention in Syria, he said, was more hawkish than the UK was "comfortable with".
Ministers have insisted no decisions have been taken.
US President Obama has pledged to "degrade" and "destroy" IS in Syria - including with a systematic campaign of air strikes.
Speaking on Thursday, Foreign Secretary Philip Hammond said MPs had voted last year against air strikes there and that decision would not be revisited.
But Downing Street said shortly afterwards that action had not been ruled out, making clear that the foreign secretary had been referring to strikes against the Syrian regime.
'Cautious'
In an urgent question in Parliament, Mr Baron said he had "grave doubts" about the possibility of UK intervention in Syria, saying MPs had made it clear last year when they rejected such a move that any military assistance to either side in Syrian conflict would require parliamentary approval.
While he had reservations about the feasibility of air strikes on IS positions in Iraq, Mr Baron said similar action in Syria would be even more problematic, given concerns about its legality, the strength of Syrian air defences and the complex nature of the conflict in the country.
He suggested that comments from Downing Street that all options remained on the table seemed to be at odds with the "cautious" tone adopted by Mr Hammond.
"Can we have some clarity with regard to government strategy? It does appear there has been an element of discrepancy between the foreign secretary and No 10.
"On Thursday, the foreign secretary seemed to rule out British involvement in air strikes altogether but No 10 seemed to row back almost immediately and said that everything must remain in play."
In response, Foreign Office minister David Lidington said there was no difference of opinion between No 10 and the Foreign Office, stressing that Mr Hammond had made clear that no decisions on "military action have been taken or been asked of us".
He said there were different "logistical challenges" in the two countries, pointing out that the Iraqi government had invited the West to provide military assistance to deal with the "immediate challenge" of a threat to a democratically elected government.