Brown calls for three 'guarantees' for Scotland
Nick Robinson
Political editor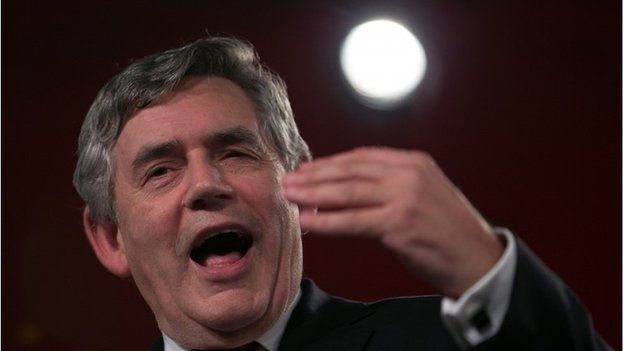 Gordon Brown is calling for three "guarantees" for Scotland to be "locked in" before voting takes place in the referendum on Thursday.
In a speech in Edinburgh later he will call for:
1. A permanent role for Scotland in the evolution of the UK:
The former prime minister has already argued that the UK is on course for major constitutional change even in the event of a No vote. He wants a guarantee that any future constitutional change will be made with Scotland's involvement. Some will fear that without such a guarantee, calls for more powers for England could be debated without Scotland being consulted.
2. A guarantee of fairness:
Gordon Brown wants politicians of all unionist parties to sign a statement that the aim of a "modern union" will be one that secures "security and opportunity for all" by "sharing equitably the resources of the nations and regions".
3. A guarantee that the Barnett formula will survive and Scotland will be able to raise taxes to protect spending on the NHS if necessary.
Nationalists are likely to point out that there can be no such guarantees given that the unionist parties have not reached agreement on which powers to give Scotland in future.
However, it is likely that the leaders of all three main UK parties will sign up to Mr Brown's plans as they agreed to his timetable for further constitutional change.
What this speech does reveal is the anxiety in the No campaign that Labour supporters are still drifting towards voting Yes because they fear a No vote may produce no change, and may leave Scotland vulnerable to another Tory or coalition government.