Green Party seeks 'radical' new political settlement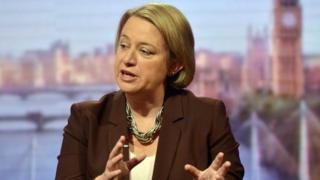 The Green Party of England and Wales is calling for "radical" changes to the way the UK is governed, in the aftermath of the Scottish referendum.
The party has put forward a plan to shift power away from Westminster and into the hands of the people.
Proposals include a written constitution, electoral reform, Lords reform and extending the franchise.
Party leader Natalie Bennett said a new settlement would be subject to a public vote.
Caroline Lucas, the party's only MP and ex-leader, has written an open letter to David Cameron, Ed Miliband and Nick Clegg calling on them to support the idea.
The Green Party of England and Wales is separate from the Scottish Green Party - which campaigned in favour of Scottish independence - and the Green Party for Northern Ireland.
'No longer tenable'
In a policy paper published on Friday, the Greens stated that "dramatic" constitutional changes were needed to rebuild public trust in politicians and the political system.
It said the referendum process highlighted the "urgent need" for a new settlement. It also criticised the "profoundly undemocratic" move by Westminster party leaders to pledge further powers for Scotland without consultation.
"It is no longer tenable for politicians to defend the over-centralised entity that is the present-day British state," it continued.
The central tenet is for a "People's Constitutional Convention", which would consider a range of matters, including:
enhanced powers for local and regional government in areas such as housing, energy, public services and business
replacing the first-past-the-post voting system with proportional representation (PR)
empowering constituents to initiate a "total" recall mechanism for all elected politicians
allowing citizens to introduce their own local referenda or initiatives
replacing the House of Lords with a directly-elected upper chamber
lowering the voting age to 16 for all elections
a written constitution setting out people's rights and government responsibilities.
The party says there are precedents for such a move, including in Scotland where a Scottish Constitutional Convention was created and in 1995 produced a blueprint for Scottish devolution.
Ms Bennett, who took over as leader from Ms Lucas in 2012, said: "Our governance is too important to be left to the government to decide on our behalf.
"The Scottish independence referendum process has underlined the fact that politicians alone cannot be trusted to draw up the blueprint for change that both people and planet desperately need."
In her open letter, Ms Lucas acknowledged the "brave" move to allow a referendum, and welcomed leaders' promises to transfer further powers to the Scottish Parliament.
But she urged them to go further and support a People's Constitutional Convention which she argued would go some way towards tackling the "democratic deficit that has left far too many people feeling unrepresented, neglected and alienated by Westminster."