Labour warns of 'two classes of MP' if England-only votes go ahead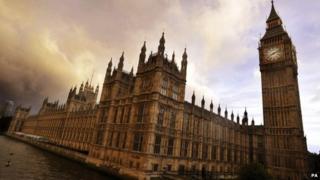 Labour has warned against creating "two classes of MP", as parties continue to clash over how to deal with Scottish voters' rejection of independence.
David Cameron wants English MPs to decide on England-only laws as more power is devolved to Scotland.
Shadow communities secretary Hilary Benn rejected this, saying more time is needed to discuss changes.
But Commons reform committee chair, Labour MP Graham Allen, has agreed all changes must be made in "lockstep".
The Conservatives said they wanted a "new and fair" settlement for the UK and insist this could happen on a cross-party basis.
Scotland voted on Thursday to stay in the United Kingdom by about 55% to 45%, but the pressure is now on the Westminster parties to fulfil their promise of more powers for Holyrood.
'Conflated'
Labour is beginning its annual conference - its last before next May's general election - in Manchester this weekend.
---
Analysis - by BBC political correspondent Robin Brant
Ed Miliband doesn't want to talk about the fallout from the Scottish referendum result as he arrives in Manchester for the Labour conference. It's put him in a tricky position.
As Scotland prepares for new powers to be devolved from Westminster, the rest of the UK waits to see if/when it will benefit from similar measures.
The Labour leader wants that wait to be a long one. His calculation is based on:
a) A sincere view that the scale of constitutional change requires a lot of thought
b) Wanting "citizens" involved in a "bottom-up" process
c) David Cameron's big idea of only English MPs voting on English laws possibly severely hampering a Labour government
The prime minister has made a play for tactical advantage over Labour. He too may believe that giving English MPs an exclusive say over laws that apply only to the UK's largest nation is the right and proper thing to do.
But he also saw the speed with which UKIP leader Nigel Farage demanded equal treatment for England.
Speaking up for England is likely to be worth votes. As the general election approaches, Mr Cameron hasn't forgotten about the threat from UKIP, with its double-digit showing in the opinion polls.
---
As he arrived, party leader Ed Miliband said: "The last few months have been about keeping our country together. The next eight months will be how we can change our country together."
Mr Miliband has said he will not sign up to restrictions on which MPs can vote on English laws and is calling instead for a constitutional convention to be set up after next May's general election to decide what should happen.
Speaking on BBC Radio 4's Today programme, Mr Benn attacked the prime minister, saying: "He conflated on the one hand a very solemn promise that all three parties made to the people of Scotland about further devolution of power... with making decisions about how we're going to change the way in which our democracy works."
He added: "You can't have two classes of MP. I mean this is something that [former prime minister William] Gladstone had to grapple with over a hundred years ago.
"And the thing we want to start with, actually, is devolving power down to the communities of England. And that's why our constitutional convention process is going to start with doing exactly that."
Of Scotland's 59 MPs, 41 represent Labour and one is a Conservative.
Graham Allen, meanwhile, who is chairman of Parliament's Political and Constitutional Reform Committee, says party leaders must "seize the historic opportunity that Scottish people have given the union".
"I think we should keep the promise [to Scotland] but also the rest of the whole arrangements around England, Wales and Northern Ireland need to go lockstep - not on Ed Miliband's timetable of at least two years," he told the PM programme on Radio 4.
Mr Allen said it was "no good putting on the backburner" plans for "sensible working for Northern Ireland, Wales and above all, England" and he called for a "clear federal settlement".
He said party leaders should work together like "mature responsible statesman trying to figure out a way forward rather than making party points".
'Cross-party'
Several backbench Tory MPs have warned that devolving more powers to Scotland will increase constitutional imbalance and unfairness if Scottish MPs continue voting on issues affecting England only.
Mr Cameron has promised draft legislation by the end of January on handing more powers over tax, spending and welfare to Scotland, which would come into effect after the general election.
He has also asked House of Commons leader William Hague to draw up plans to restrict votes on English matters to English MPs - and promised a more wide-ranging shake-up of the constitution.
Following Mr Benn's comments, Conservative Party Chairman Grant Shapps said: "As the prime minister has said, we need a new and fair settlement not just for Scotland - but for every part of the United Kingdom.
"And we want to work on a cross-party basis to make that happen."
Liberal Democrat constitutional affairs spokesman Lord Tyler said change had to happen "from the bottom up".
He added: "The answer is to try and make sure that throughout the whole of the United Kingdom, from Land's End to John O'Groats, people have more influence over decisions that affect their lives."
SNP leader Alex Salmond, who announced he was standing down after losing Thursday's referendum, has warned that the timetable for constitutional change is slipping.
Liberal Democrat leader Nick Clegg - who backs further Scottish devolution and plans for some England-only powers at Westminster - has supported calls for decentralisation of tax and spending powers to "city regions".
UK Independence Party leader Nigel Farage has written to all Scottish MPs asking them not to vote on English issues.