When will we know about air strikes on Islamic State?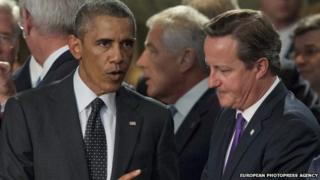 So, are British aircraft about to take part in strikes against Islamic State? Most MPs expect it to happen at some stage. But, despite all the fevered speculation of parliament being recalled later this week, I do not think we are quite there yet. Here is why:
Timing
David Cameron is in New York having talks with the US, the Iranians and others at the United Nations. He will meet President Obama on Wednesday before giving a speech to the UN General Assembly at midnight UK time. He is not expected back until Thursday morning. He is not thought likely to make a firm decision until he holds further consultations with his ministers and security advisers.
He might also want to look Ed Miliband in the eye before making a decision about where he thinks the Labour leader will jump on this. The PM is nothing if not mindful of losing Labour's support over Syria strikes last year. If Mr Cameron took a decision in principle, say at Thursday lunchtime, that would probably be too late for Parliament to be recalled on Friday. There are no hard-and-fast rules about this but whips traditionally like to have between 24 and 48 hours to guarantee getting most MPs back from overseas for a vote.
For example, in the summer of 2013, MPs were given two days' notice before they had to return to Westminster to decide on possible military action against Syria. Although there is a trivial political advantage of holding a debate on Friday to disrupt media coverage of the UKIP party conference, Mr Cameron might not want to authorise air strikes that then take place next week, diminishing coverage of his own party conference. Several MPs I have spoken to are speculating that perhaps parliament might instead be recalled on Thursday week, 2 October.
Support from Tory MPs
One senior Conservative backbencher told me that Mr Cameron would have the broad support of most Tory MPs "for anything short of action in Syria". But he also thought Tory MPs needed more reassurance that the country would also support military action. He said Mr Cameron needed to do more publicly to make the case for strikes. He suggested the PM might use the Conservative Party conference next week to make the case to the country. In other words, the prime minister still needs to make the case to the country and it might be too late to leave it all to a parliamentary statement.
Support from Labour
Many Labour MPs I have spoken to at the party conference in Manchester are much less hostile to military action than they were over Syria last year. But they are still cautious and are looking for a stronger argument to be made. For some, it is not enough that Islamic State is evil. They also need a clear humanitarian case to be made. For now, the Labour leadership is in what one aide called "a principled holding position".
Ed Miliband told his conference that he wanted to see a United Nations Security Council resolution "to win the international support to counter that threat" of IS. His advisers also said they would not make any final decision until such time that the prime minister put a motion down for debate in the House of Commons. But note this: Labour is also making clear that it is not saying support for air strikes would be conditional on an UN resolution; it just wants the issue debated at the UN in an attempt to win as much multilateral support, even if any resolution eventually happens to be vetoed by the Russians or Chinese.
But the mood from Labour is not one of looking for reasons to oppose any military action, rather of ensuring it ends up in the right place at the right time. There have been discreet contacts between Mr Miliband's office and Downing Street. And for now, Mr Miliband is waiting for some clarity from Number 10, and he is not ruling things out.
It may not just be Iraq
Last week Foreign Secretary Philip Hammond came close to ruling out air strikes in Syria, saying that it would be politically, technically and militarily more complicated than any action in Iraq. But today Defence Secretary Michael Fallon, in an interview with the Spectator, specifically made clear that in his view: "Iraq is under attack not just from terrorists inside its own borders, but it is under attack from terrorists in the north of Syria, and if Syria continues to be unwilling or unable to deal with ISIL, then at least the question arises as to whether we shouldn't assist Iraq in doing so."
I also understand the Labour leadership thinks it is quite possible it will be asked to support action in Syria and is examining the legal issues. So UK involvement in strikes in Syria is still on the table. And that means more time probably would be needed to get the legality and the diplomacy right.
So, nothing has been decided
Downing Street insiders talk of a fluid situation and rule nothing in or out. They say we must all wait until the PM's speech late on Wednesday night. But even then, the expectation remains that the prime minister will make a deliver an argument rather than a dramatic announcement.