Newmark resignation: Investigation of 'urgent concern'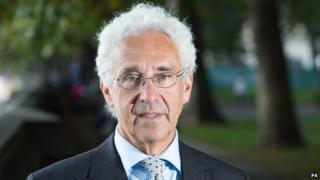 The chairman of new press watchdog Ipso says an investigation into the sting that led to a minister's resignation is of "urgent public concern".
Sir Alan Moses said subterfuge could only be used as a "last resort".
Conservative MP Brooks Newmark quit after the Sunday Mirror reported he had sent explicit pictures of himself to an undercover journalist.
The paper has apologised to women whose pictures were used in the probe but stands by its story.
Editor Lloyd Embley said it was initially thought the pictures had been posed by models.
Fellow Conservative MP Mark Pritchard, who was also targeted by the male freelance reporter posing online as "Sophie Wittams", has complained to Ipso and the police.
---
Analysis
David Sillito, BBC News
The Sunday Mirror's scoop and scalp has turned in to a tricky defence of its ethics.
The paper has had to apologise to the women whose photos were used without permission.
It also faces legal questions and an investigation by Ipso at a moment when the new press watchdog is under pressure to prove it has more teeth than its predecessor.
The defence is that the story was in the "public interest". Was it something we needed to know?
Brooks Newmark is part of a group, Women2Win, that was trying to reach out to women and bring them in to politics.
If there had been evidence he was using this access to seduce or sexually harass women then there would perhaps have been a clear public interest.
However, it appears the freelance journalist behind the story had targeted a whole group of Conservative MPs.
Even the supposedly toothless Press Complaints Commission objected to such "fishing expeditions" and former Mirror editor Roy Greenslade feels the paper has crossed the line.
Add to this the claim that the story was turned down by other newspapers, and the Mirror looks exposed.
Ipso has 28 days to resolve the issue. It has a great deal to prove.
---
If Ipso decides there is a case to answer, they will contact the tabloid and give them 28 days to respond.
Sir Alan said the regulatory body would expect the tabloid to already know "exactly how they justify what they did in that case" and be able to prove it was in the public interest.
He said: "They will have to justify what they did, having regard to the fact that the editors' code is absolutely clear that this sort of method is only permissible in circumstances where no other means of discovering evidence of that which is already suspected exists.
"So, to put it loosely, last resort."
Speaking at the Conservative Party conference, he added: "It's a matter of urgent public concern and Ipso will watch it all the way."
'Subterfuge used'
Prime Minister David Cameron has said Mr Newmark was right to resign - but would not be drawn on whether the Sunday Mirror acted fairly.
He told BBC Radio 5 Live: "We've got this new press regulator - let's let them make a decision.
"Brooks has done the right thing by instantly resigning and trying to rebuild his relationship with his family."
Mr Cameron noted there was "quite a debate here amongst the press and politicians about was it right, was it wrong".
He added that he understood "a lot of newspapers turned down this story".
Mr Embley, editor in chief of the Daily Mirror and Sunday Mirror, said: "The Sunday Mirror stands by its story relating to Brooks Newmark.
"Subterfuge was used in this investigation - and we have been very clear about that from the start.
"We strongly believe there was a clear public interest because of Mr Newmark's roles as Minister for Civil Society and co-founder of Women2Win, an organisation aimed at attracting more Conservative women to Parliament.
"The investigation was carried out before the Sunday Mirror's involvement. We thought that pictures used by the investigation were posed by models but we now know that some real pictures were used.
"At no point has the Sunday Mirror published any of these images but we would like to apologise to the women involved for their use in the investigation.
"We have already spoken to one of them who would like to tell us her side of the story. This will be appearing in this week's Sunday Mirror."
'Quite wrong'
One of the women, Malin Sahlen, told Swedish newspaper Aftonbladet that she had not given permission for her picture posted online to be used.
Another of the women, Charlene Tyler, told the Daily Telegraph it was "quite wrong" for the newspaper to have used her pictures.
Civil society minister Mr Newmark resigned after the sting, saying he had been a "complete fool". Mr Pritchard said "questionable techniques" were involved in the paper's report.
Adopting the false identity of "Ms Wittams", the freelance reporter described himself on Twitter as a "twenty-something Tory PR girl".
"Sophie" then contacted and interacted with a number of Conservative MP via the social networking site.
There was no evidence that any MP, apart from Mr Newmark, had acted inappropriately in response to the flattering messages sent to them from the fictional Ms Wittams.
John Whittingdale, Conservative chairman of the Commons culture and media committee, said the paper had "serious questions" to answer about its journalistic techniques.
Former Culture Secretary Maria Miller said it showed why people had to be very careful about the sorts of images they took of themselves and put on the internet.
Culture Secretary Sajid Javid said it would be "wholly wrong" for him to comment on the case as the minister responsible for media policy.
Ipso came into being earlier this month, replacing the Press Complaints Commission.
It was set up by most major newspapers, including the Mirror titles, to investigate complaints from the public in the wake of phone hacking and the Leveson inquiry into the practices and ethics of the industry.