I care much more about UK than EU, says David Cameron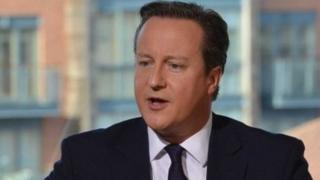 David Cameron has said he cares "a thousand times more strongly" about keeping the UK together than about the country staying in the European Union.
The prime minister, who has promised a referendum on EU membership in 2017, told the BBC that the decision would be based on "a position of pragmatism".
Had Scotland left the UK it would have caused him "heartbreak", he added.
The comments come after two Tory MPs - Mark Reckless and Douglas Carswell - defected to the UK Independence Party.
They said Nigel Farage's party, which calls for an EU exit, better represented their views, and those of many Conservative activists, than Mr Cameron and his team.
But the prime minister told BBC Radio 4's Today programme that Europe had been a "great cause of unity" among Tories attending their annual conference in Birmingham.
He is promising an in-out referendum in 2017 if the Conservatives win the next election, adding that this would follow a full renegotiation on the UK's role in the 28-member organisation.
'Best deal'
The vote will follow the rejection of independence from the UK by Scottish voters by 55% to 45% earlier this month.
Mr Cameron said: "I feel about a thousand times more strongly about the United Kingdom than I do about the European Union. If I didn't feel it was in Britain's interests to be in the EU then I wouldn't argue for it."
He added: "The United Kingdom was an issue of heartbreak. This is a position of pragmatism... How do we get the best deal for Britain? That's what I feel strongly about."
On Monday former Conservative cabinet minister John Redwood, a leading Eurosceptic, warned bosses of large companies they would pay a "very dear economic and financial price" if they spoke out in favour of staying in the EU, the Daily Telegraph reported.
He told a fringe event at the Conservative Party conference in Birmingham: "If they don't understand that now they will find those of us organising the 'get out' campaign will then make life difficult for them by making sure that their customers, their employees and their shareholders who disagree with them - and there will be a lot who disagree with them - will be expressing their views very forcefully and will be destabilising their corporate governance."
'Day of reckoning'
Publicly backing EU membership could be "deeply disruptive to their businesses and maybe even to their own tenure of their jobs", he added.
Former Conservative Chancellor Ken Clarke, one of the Conservative Party's best known Europhiles, compared Mr Redwood's intervention with those by former SNP deputy leader Jim Sillars who, in the run-up to the Scottish referendum, had warned business would face a "day of reckoning" for voicing concern about breaking up the Union.
John Mills, chairman of the Business for Britain group, which says the current UK-EU relationship is not working and advocates the UK staying in the EU on changed terms, said: "The wider the debate the better. And I think that business has a role to play in ensuring the debate is full and fair."
Sir Mike Rake, chairman of BT and the Confederation of British Industry, called Mr Redwood's remarks "somewhat surprising and disappointing".
He added: "It emphasises the need for a proper factual debate about the benefits and costs of being in the European Union and, frankly, underlines the importance of businesses having both the right and duty, the CBI as well, to speak out on some of these issues so that people can be properly informed."
A by-election takes place on 9 October in Clacton, the seat which Douglas Carswell stood down from when he defected from The Conservatives to UKIP. Another will follow in Rochester and Strood, where Mr Reckless was MP. Both are running as UKIP candidates.
Mr Cameron said it was going to be "tough" to win Clacton, adding: "I've got a track record of doing in the EU what people said I couldn't do."