European Union flag 'burnt' at Tory conference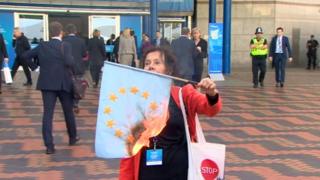 A makeshift European Union flag has been burnt at the Conservative Party conference in Birmingham.
The incident occurred inside the secure zone at the International Conference Centre, where the event is being held.
The woman involved, who has yet to be identified, was approached by security and led away but not removed.
The UK's future in Europe is a divisive issue at the conference following the defection of two Conservative MPs to the UK Independence Party.