Brooks Newmark resignation: Story 'not fishing' exercise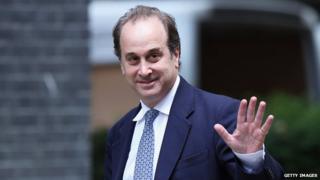 The journalist behind a story that caused a minister to stand down was not on a "fishing expedition", the blog that employs him has said.
Brooks Newmark quit after the Sunday Mirror reported he sent explicit images of himself to an undercover journalist.
The Guido Fawkes website said its reporter Alex Wickham was behind the story, which is being probed by the new press watchdog, Ipso.
The blog said the story was a "narrowly targeted effort" against the MP.
Adopting the false identity of "Sophie Wittams", the reporter described himself on Twitter as a "twenty-something Tory PR girl".
"Sophie" then contacted and interacted with a number of Conservative MPs via the social networking site.
'Agreed plan'
There was no evidence that any MP, apart from Mr Newmark, had acted inappropriately in response to the messages sent by the fictional Ms Wittams.
An entry on the Guido Fawkes blog, which is run by Paul Staines, said: "The Sophie Wittams Twitter account followed almost 100 MPs - not to target them - which is obvious given that many of them were women MPs and the list included the prime minister."
The blog said Alex Wickham was "a fine young journalist" and "his so-called sting - which was actually evidence gathering - was not an unauthorised operation... it was an agreed plan".
'Urgent concern'
Braintree MP Mr Newmark, 56, who is married with five children, stood down from his role as Minister for Civil Society on Saturday.
Guido Fawkes described the story as "our Brooks Newmark investigation published in the Sunday Mirror".
The blog said the fact that Mr Newmark was part of a group, Women2Win, that was trying to reach out to women and bring them in to politics, was a reason behind its interest in the MP.
The chairman of the Independent Press Standards Organisation said an investigation into the story was of "urgent public concern".
Sir Alan Moses said subterfuge could only be used as a "last resort".
If Ipso decides there is a case to answer, it will contact the Sunday Mirror and give them 28 days to respond.
The Sunday Mirror, meanwhile, has apologised to two women after photographs they posted online were used by the fictional Ms Wittams.
Editor Lloyd Embley said it was initially thought the images had been posed by models.