Lib Dem conference: NHS funding boost to be considered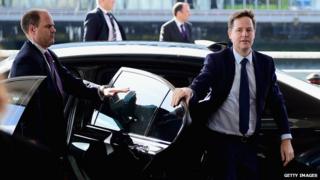 Liberal Democrat plans to commit £1bn in extra NHS funding would be paid for by extra tax measures on the wealthiest in society, Danny Alexander has said.
The chief secretary to the Treasury spoke as party supporters gathered in Glasgow for their final autumn conference before the general election.
The plans for £1bn delivered annually for two years - between 2016 and 2018 - will be considered by party members.
Deputy Prime Minister Nick Clegg will address a rally on Saturday evening.
Party leaders will seek to galvanise activists with the Lib Dems trailing behind UKIP in opinion polls and battling to claim credit for coalition government policies.
The NHS funding commitment, which will feature in the Lib Dem manifesto if approved by members on Sunday, would apply over a two-year period.
Mr Alexander said the money would be in addition to a commitment to protect NHS spending over the lifetime of the next Parliament.
He told BBC News: "We are going to pay for it through additional tax measures that ask a little more of the very wealthiest in society - in particular, clawing back some of the large amounts of tax relief that go to the very largest pension pots.
"That is a fair way to pay for this."
The NHS featured prominently in proposals laid out by the two other main Westminster parties during their recent conferences.
At the Labour gathering leader Ed Miliband pledged an extra £2.5bn a year, paid for without extra borrowing. He said it would be funded from a "mansion tax", a crackdown on tax dodgers, and new a levy on tobacco firms.
He said a future Labour government would pay for 36,000 more doctors, nurses and midwives.
'Sums' questioned
Meanwhile, Prime Minister David Cameron told his party's conference a Conservative government would protect the NHS in England from spending cuts until 2020 and pledged a real-terms increase in funding, once inflation is taken into account, between 2015 and 2020.
He also said everyone in England would have access to GP services seven days a week by 2020 if the party was to win power.
Mr Alexander drew comparisons between the plans laid out by the Lib Dems and the party's rivals.
"Crucially, this is a pledge where we are setting out how we would pay for it, unlike the other two parties, who seem to have given up on trying to make their sums add up," he said.
NHS spending
Period
Years
Average annual real growth in budget
Entire NHS History
1949-50 to present day
+4%
Coalition government
2011-12 to 2014-15
+0.1%
Last Labour government
1996-97 to 2009-10
+6.4%
Last Conservative government
1978-79 to 1996-97
+3.3%
Tightest four-year period
1950-51 to 1954-55
-2.4%
Mr Alexander outlined other issues he felt set the Lib Dems apart from the Conservatives and Labour.
He said: "One of the big differences that is emerging during this party conference season is that Labour is forgetting about the deficit and the Conservatives want to balance the books solely on the backs of the working poor.
Coalition tensions
"We are saying we need to finish the job, but we have got to finish it fairly. That means asking the wealthy to make a contribution, as well as everybody else."
The Lib Dems are traditionally the first of the three main Westminster parties to hold their party conference, but this year's event was rescheduled because of the Scottish independence referendum on 18 September.
Mr Clegg will take part in a question and answer session with members on Monday, and give his main conference speech on Wednesday.
When Prime Minister David Cameron unveiled plans to raise the personal income tax threshold at the Conservative Party conference this week, Mr Alexander said the move was "a shameless attempt to copy Liberal Democrat tax policy".
The Lib Dems have previously pledged to raise the personal allowance to at least £12,500 by the end of the next Parliament.
Tensions between the two coalition parties have been exacerbated recently with Mr Clegg demanding an apology from Home Secretary Theresa May after she used her conference speech to criticise the Lib Dems for blocking new data monitoring powers.
'New low point'
The deputy prime minister said her comments marked a "new low point in coalition relations".
However, in an interview with The House magazine, education minister David Laws said there was a "big gap" on economic strategy between the Lib Dems and Labour, despite the two parties adopting some similar policies.
He said: "The Labour Party has converged towards us on things like the mansion tax. But on some of the other really big issues there's still a big gap, and the biggest one of all is on the critical issue of deficit reduction."
Meanwhile, in an article for The Guardian, Mr Laws also called for constitutional changes to settle the debate over MPs from Scotland, Wales and Northern Ireland voting on laws that only affect England.
He said a new "grand committee" of English MPs should be set up to debate such laws, and that it should be put together on the basis of proportional representation.