Cameron consoles Boycott over 'greatest Yorkshireman' pick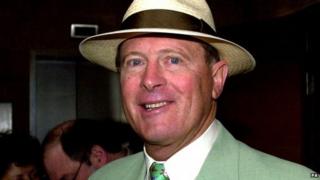 David Cameron has written to ex-England cricketer Geoffrey Boycott to explain why he overlooked him when choosing his "greatest living Yorkshireman".
The prime minister instead opted for former Foreign Secretary William Hague in his Conservative conference speech.
Mr Boycott, noted for his tenacity as a batsman, queried the choice on Twitter.
Mr Cameron has been inundated with alternative suggestions, including former umpire Dickie Bird and tourism chief Gary Verity.
He announced Mr Hague, who was born in Rotherham and represents Richmond, North Yorkshire, in Parliament, as his choice when he addressed Conservative members in Birmingham last week, calling him an "amazing parliamentarian" and "our greatest living Yorkshireman".
This prompted a feverish debate, in which Mr Boycott was himself glad to take part, accusing the PM of suffering a "lapse in memory".
Analysis by Chris Mason, BBC political correspondent
Hell fire! A row about the greatest living Yorkshireman? How long have you got?
There are 5.3 million of us. And that is just those who live in God's Own County now, rather than lost souls like me who have drifted across the border to the sorry badlands beyond.
William Hague has occupied one of the great offices of state as foreign secretary, but can now add what I'm sure he'd regard as a higher accolade from the prime minister as the "greatest living Yorkshireman".
Of course technically that label still allows a lady Tyke to claim the title of greatest living Yorkshire woman, which would be an equally high-octane contest.
Sithee.
The compiler of 48,426 first-class runs, including 8,114 in Test matches, advised Mr Cameron on his own batting technique when he appeared on the BBC's Test Match Special last year. The two men are said to be friends.
Despite his outspokenness, Fitzwilliam-born Mr Boycott's popularity crosses party lines. In 2010, Labour leader Ed Miliband chose him as his hero, admitting he had skipped school to watch the opening batsman in his final innings at Lord's.
Mr Cameron revealed he had written to Mr Boycott to explain his actions in an interview with BBC Yorkshire's political editor, Len Tingle. Mr Boycott confirmed this in a tweet: "Lovely letter arrived this morning from the Prime Minister regards Greatest Living Yorkshireman debate - he has a great sense of humour!"
This did not satisfy some of his followers, who demanded an immediate knighthood.
Mr Hague is currently leader of the House of Commons and will stand down from Parliament at the next general election.
Alternatives proposed for top Yorkshireman (or Yorkshirewoman) included singer Jarvis Cocker, Olympic athletes the Brownlee brothers and Jessica Ennis, actress Dame Judi Dench and actor Brian Blessed.
Mr Boycott has some consolation in Yorkshire winning cricket's county championship this year, the first time this has happened since 2001.