Pub landord Al Murray tells Nick Clegg: Not in my name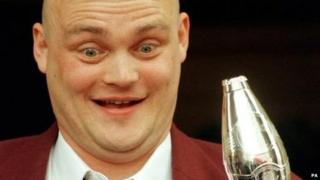 Comedian Al Murray has objected to being mentioned in Liberal Democrat leader Nick Clegg's conference speech, proclaiming on Twitter that this "business is nothing to do with me".
The deputy PM praised Mr Murray, whose most famous character is the Pub Landlord, for comments on "Britishness" ahead of the Scottish referendum.
But the comedian instead tweeted his own list of political demands.
He castigated Mr Clegg: "Silent on pub dog policy yet again. Shame on you."
Mr Clegg's end-of-conference speech, the last he will deliver before next May's general election, touched on the recent referendum in which voters in Scotland rejected independence by 55% to 45%.
He added that at a rally in London's Trafalgar Square shortly before the vote, Mr Murray had described "something wonderfully vague about being British".
Mr Clegg continued: "'After all,' he said, 'that's why we call ourselves Brit-ish.' And it's true. You can be British as well as Scottish, English, Northern Irish, Welsh-ish."
But the joke went down as well as a Guinness and Campari spritzer followed by half a pound of Bombay mix with the comedian, who wrote on Twitter: "ATTENTION WORLD'S MEDIA: This Clegg business is nothing to do with me."
He retweeted a question posted by another user, asking "Who in their right mind would vote Lib Dem ever again?" Mr Murray answered: "Not me ha ha ha."
Mr Murray then adopted the persona of the Pub Landlord, not known as being especially liberal in his musings, to suggest a series of policies, as Mr Clegg continued his speech.
These included "bringing back hanging if only for the sake of the rope industry" and this: "DEAR NICK CLEGG: Landlord on education: create a level playing field by making sure none of the little sods can read or write or add up."
Another read: "Pub Landlord tax policy: always pay cash and/or fake your own death in a pub fire for tax/insurance purposes."
Mr Murray also tweeted: "The Pub Landlord vows in his next government to raise the temperature 5 degrees by 2019 to 'save Blackpool's tourist trade'."
It is thought unlikely that the Lib Dems would countenance such policies even in a future coalition environment.