MPs expected to debate drugs laws, says Green MP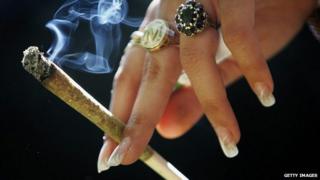 Caroline Lucas says she is "confident" of securing a Commons debate later this month on a possible overhaul of UK drugs laws.
The Green MP told the BBC she wanted the government to carry out a wide-ranging study of the issues involved, including health and crime.
This follows almost 135,000 people backing an online petition saying the current laws are "not working".
The government has said a full Royal Commission on drugs is "not necessary".
But, in a statement last year, it said it would "continue to listen and learn from emerging trends, new evidence and international comparators".
Campaigners including the businessman Sir Richard Branson have complained that the UK is approaching drugs as a "law and order", rather than "health", issue. They argue that this drives the problem beyond the reach of the authorities and encourages crime.
'Evidence-based'
Speaking at the Liberal Democrat conference this week, Deputy Prime Minister Nick Clegg called drugs policy "idiotic", reiterating his party's vow to scrap prison sentences for possession, set to feature in its 2015 general election manifesto.
Ms Lucas, MP for Brighton Pavilion, said the UK could learn more from Portugal and some US states, where possession of some drugs has been decriminalised.
She said she had been advised by the Backbench Business Committee, which decides which petitions MPs will discuss, that a debate could go ahead on 30 October.
The e-petition calls for the government to carry out an "evidence-based" and "independent cost-benefit analysis and impact assessment of the Misuse of Drugs Act 1971 within the next 12 months".
Ms Lucas said: "In a sense the motion has been deliberately worded so as to be as uncontroversial as possible."
She added that much of the debate by MPs on drugs was "knee-jerk" and that many of the public were "far ahead" of politicians, saying: "There's a lot of evidence that prohibition simply isn't working.
"We want to get MPs recognising that there is a need for a comprehensive debate."
A Home Office spokesman said: "The government has no intention of decriminalising drugs. Drugs are illegal where scientific and medical analysis has shown they are harmful to human health.
"Decriminalisation of drugs would not eliminate the crime committed by the illicit trade, nor would it address the harms associated with drug dependence and the misery that this can cause to families and communities.
"The UK's approach on drugs remains clear: we must prevent drug use in our communities, help dependent individuals through treatment and wider recovery support, while ensuring law enforcement protects society by stopping the supply.
"There are positive signs this approach is working and across the majority of drugs and age groups there remains a long term downward trend in drug use over the last decade."