By-elections: what's at stake for the parties?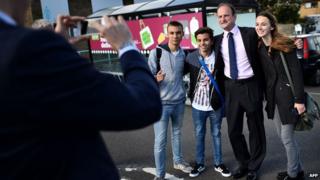 The polls have closed in two by-elections - Heywood and Middleton near Manchester and Clacton in Essex. What will be on the parties' minds as the votes are counted?
---
UKIP
Have you ever heard the line "Second place is just the first loser"?
Since the general election in 2010, UKIP has chalked up seven second-place finishes in Westminster by-elections. Here's the roll call: Barnsley Central, Rotherham, Middlesbrough, Eastleigh, South Shields, Wythenshawe and Sale East, and Newark.
The expectation tonight is it will add an eighth runner-up spot in Heywood and Middleton on the outskirts of Manchester. Oh, and it'll make a bit of political history too - by securing its first ever elected MP in Douglas Carswell in Clacton.
Yes, victory for UKIP on the Essex coast might be widely expected, "priced in" as some at Westminster put it, but make no mistake: it's a big moment for UKIP and a big moment for British politics - the moment the "purple peril", as its critics see it, is elected to the Commons for the first time. Picture the moment when Mr Carswell stands up for the first time to throw a question at the prime minister.
---
Conservatives
For some time senior Conservatives have acknowledged they are fighting an election battle on two fronts. The old enemy, Labour, and the upstart UKIP, those chuckling party poopers who can simultaneously send a frisson of excitement through some former Conservative voters, and a cold blast of anxiety through Tory high command.
Yes, a good number of Conservative frontbenchers have hopped on the train to campaign in Clacton, but have done so recognising that beating their old colleague Mr Carswell is probably a lost cause.
If tonight is about history, the next by-election, in Rochester and Strood, in Kent, is about psychology.
The Conservative battle to defeat Mark Reckless, who has also left to join UKIP, will be on an altogether different scale.
Why? Not because beating him will defeat UKIP for good, but because beating him will prove to Conservative activists that UKIP are beatable, something they'd see as a very welcome fillip, six months out from a super-close general election.
---
Labour
Much of the talk about the growth of UKIP has focused on the threat it poses to the Conservatives. I plead guilty. I've just done it.
But Labour is waking up too, to the threat UKIP poses. Of those seven second places UKIP has already managed, five were in apparently safe Labour seats. All five were in urban northern England, where the Conservatives are weak.
So while winning Heywood and Middleton is a must for Ed Miliband, another second place for UKIP would prove the continuing threat it poses to Labour.
Plenty of those drawn to UKIP are done so by their pitch to people who feel that politics has left them behind, forgotten them, ignored them. Plenty of those people may have voted Labour before, may never imagine voting Conservative or even voting at all - but are tempted by UKIP. For Ed Miliband, that's dangerous.
---
The Liberal Democrats
For so long the nimble masters of the nifty by-election victory, since joining the coalition the Lib Dems have plunged to near subterranean depths of by-election embarrassment.
Shortly after the last Westminster by-election in Newark, Nottinghamshire in June, former Lib Dem MP Lembit Opik summed it up like this: "So, Lib Dems come sixth, behind Independent and Green, but ahead of Nick the Flying Brick (Loony). The revival has begun."
And sixth was rather better than the party fared in Rotherham in 2012. It finished eighth there, with 2.11% of the vote.
So dire has been the Lib Dem performance in most by-elections since 2010, that in nine of them they have failed to keep their deposit - the 500 quid a party has to stump up to stand, which is returned if the candidate secures 5% of the vote or more.
The Lib Dems don't have any victory parades planned for Friday.