Clegg backs 'internet constitution' to enshrine rights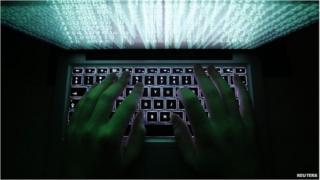 A "constitution for the internet" may be required in future to enshrine the rights of web users and safeguard their privacy, Nick Clegg has suggested.
The deputy prime minister told MPs the scale and speed of technological change meant existing laws were out of date.
While the state should be a "reluctant intruder", he said a more "treaty-based" approach may be needed to police rights across national boundaries.
He was appearing before the Commons Intelligence and Security Committee.
The Lib Dems have repeatedly clashed with their Conservative coalition partners over their opposition to enhanced powers for the police and security services to access details of phone calls and other communications held by mobile phone companies on civil liberties grounds.
Because of Lib Dem concerns, a bill was dropped last year that would have extended the range of information telecommunications firms had to store for up to 12 months. It would have included the time, duration, location and recipients of emails, phone calls and messages sent on social media.
Mr Clegg said the debate about security and privacy, triggered by whistleblower Edward Snowden's revelations about the extent of data-gathering by US security agencies, had become "too polarised".
'Checks and balances'
The Lib Dem leader said there did not need to be a "crude trade-off" between security and privacy since security was essential to allowing people to exercise their freedoms but it could not exist in an environment where people felt their privacy was not properly safeguarded.
"I have never quite believed there is this zero-sum game, this seesaw effect in the debate."
In a world where existing boundaries between different platforms and data had broken down, Mr Clegg also said a new approach would be needed to defining people's rights.
"I increasingly question our ability to deal with some of these issues on our own," he said.
"I think we will increasingly have to move, in time, to a more treaty-based approach in which jurisdictions become more compatible with each other across the world.
"This is a global phenomenon which needs some basic global disciplines and checks and balances including, in the long run, what I would call a 'constitution for the internet' - a sense people who use the internet feel they have got certain parameters and rights they can exercise in that space."
Transparency reports
Mr Clegg also said information about the work of the intelligence services should be made public before the general election, in the form of the first in an annual series of "transparency reports".
He said it should include a more detailed breakdown of the 500,000 requests made each year by the authorities for access to individuals' confidential communications information.
Also giving evidence, shadow home secretary Yvette Cooper said it was "preferable" for communications data to be retained by private companies rather than government bodies, subject to "strong safeguards" governing how it could be obtained and defined time limits.
Reflecting on public attitudes towards the issue of personal data, she said research had suggested that people had been "strongly supportive" of identity cards - introduced under the last Labour government but scrapped by the coalition - "until the government proposed them".
"As long as they were being proposed by everyone else - including private companies and private organisations, everyone thought they were a great idea," she said.
"As soon as government and politicians start proposing them, then people become rather less keen."