Child poverty set to rise, says social mobility commission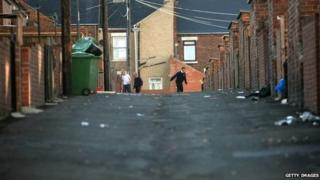 The UK risks becoming a "permanently divided" society unless "radical new approaches" are taken by the next government, a report suggests.
The Social Mobility and Child Poverty Commission also claims the target to reduce child poverty by half by 2020 will not be met.
Chairman Alan Milburn said the three largest Westminster parties were being "less than frank" on the issue.
He said housing costs and youth unemployment needed to be tackled.
Mr Milburn, a former Labour minister, said the current government had "discredited existing child poverty targets and failed to put in place new ones", creating an "unholy mess".
'Relative poverty'
The existing targets were put in place in 2010 by the last Labour government. Currently, a child is classed as being in relative poverty if his or her family income is less than 60% of median earnings. (Here's an explanation of how the median is worked out.)
The House of Commons Scottish Affairs Committee defined absolute poverty as "the lack of sufficient resources with which to keep body and soul together".
According to the commission's report "absolute child poverty increased by 300,000 between 2010-11 and 2012-13" and "independent experts expect child poverty to increase significantly over the next few years". It also says that "working poverty after housing costs is rising".
It says 1.4 million children are now in "relative poverty" due to the effects of rising rents and mortgage costs since 2010, despite the rate of relative poverty in the general population falling to its lowest level since 1984.
---
What the report says is going well:
Relative poverty at a 30-year low
Unemployment down to 6.2%
85% support on childcare costs for eligible families
Twice as many poor children achieving the basics at GCSE than in 2005
The Pupil Premium - giving additional funding to schools with poorer pupils to help close the attainment gap
7% increase since 2011/12 in 'Good' or 'Outstanding' FE colleges
Number of children in workless households is at an all-time low
40% of young people entering higher education
£735 million invested in widening participation in higher education
---
The report also says that 20% of Scottish children and 24% of Welsh children live in absolute poverty.
The prime minister's official spokesman said: "It is through greater employment opportunities for the households in which children grow up that we can best address this issue."
Deputy Prime Minister Nick Clegg said he shared Mr Milburn's "despair", and claimed "the Conservatives have basically decided to turn their back on child poverty".
The report offers a series of recommendations that - if implemented by 2020 - would "prevent Britain becoming a permanently divided society and ensure there is a social recovery alongside the economic recovery".
The recommendations include:
Reform child poverty targets
'Working poor' exempted from austerity measures
Higher pay for the best teachers to go to the most challenging schools
All children to be school-ready at age five by 2025
National parenting campaign to be launched
Illiteracy and innumeracy ended for primary-school leavers by 2025
Long-term youth unemployment ended by 2020
Britain to become a Living Wage country by 2025
Number of housing options increased
Unpaid internships ended by 2020
Cap on student numbers at individual universities to be removed
Mr Milburn told BBC Breakfast the risk is that young people today "simply do not have the opportunity to progress".
And speaking to BBC Radio 4's Today programme, he also said that what was needed in government was a "more rounded sense of what makes people poor".
The report says that currently two out of every three 5-year-olds eligible for free school meals is "not school-ready". The report advises a "national parenting campaign" to resolve this problem, in which key parenting skills would be developed in five strands: reading, responding, playing, talking, and caring.
The campaign would be financed by removing childcare tax breaks from families where one parent earns more than £100,000.
Mr Milburn added: "What every political party needs to do is reconcile very good social ends and fiscal and other policies they want to pursue.
"It is no good willing the ends and not willing the means."
---
What the report says is not going so well:
4 in 10 children missing out on "good parenting"
6 out of 10 poor children not getting the basics at GCSE
Only 15% of workplaces offering apprenticeships
8% of 16-17-year-olds and 16% of 18-24-year-olds still not in education, employment or training
Long-term youth unemployment (more than one year) double the level it was before the recession
1 in 5 children living in absolute poverty
£40 a week fall in average earnings since April 2009
Home ownership for those younger than 25 has halved in the past 20 years
Most advantaged are six times more likely to go to university
Top employers recruit from an average of 20 out of over 115 universities
Over a quarter of employers use unpaid interns
---
The commission proposes that the UK government give the Office for Budget Responsibility "a new role to report on the poverty and social mobility impacts of budgets", as well as advocating that "all political parties come forward with a clear set of plans before the election next year for what they will cut and how they will avoid negative impacts on social mobility and child poverty".
The report says 20.8% of families with children are now renting private accommodation, up from 5.7% in 1988.
The commission recommends combating the "poverty premium", which "forces the poorest families to pay the highest prices for life's essentials", by extending the Warm Homes Discount (which gives a discount on energy bills to some low-income families with children) and the Green Deal (which provides loans to households for to insulate their property and cut heating costs).
It says the government should work with other suppliers to "standardise access to discounts".
Mr Milburn said the aim of government policies should be to get people "from welfare to work and then from low pay to living pay".
The commission says the next government's goal should be to end youth unemployment by 2020. It argues a "Day One" re-engagement service for those who enter the job market for the first time or lose a job should be introduced, and by 2020 half of all employers with more than 10 employees should be offering apprenticeships.
The report also claims five million people currently earn less than a living wage.
'Plainly absurd'
He said that Labour's promise to raise the minimum wage to £8 an hour by 2020 was a "good step forward", but "not as ambitious as one would hope it would be", adding that if the "historic trend" in minimum wage rises had continued since 2008, the rate would be £8.23 an hour by 2020.
But Ian Murray, Labour's shadow minister for trade and investment, said: "Labour's pledge to raise the National Minimum Wage to £8 in 2019 is good news for millions of people across the country. To suggest otherwise is plainly absurd. We are the party that introduced the minimum wage and Labour is the only major party with a plan to strengthen it further."
Mr Milburn also criticised Chancellor George Osborne for promising to freeze working-age benefits for two years, saying this would have a negative impact on the "working poor".
Matthew Reed, chief executive of the Children's Society, said that a failure to end child poverty by 2020 would be a "national disgrace" that reflected "repeated failures by successive governments to back up words with action.
And Barnardo's Javed Khan said: "It's shocking that poverty looms for a record number of children by 2020, no matter how hard their families work. Surely now it's time for the UK Government to change its 'slash-and-burn' approach to welfare reform."