UK spy drones to fly over Syria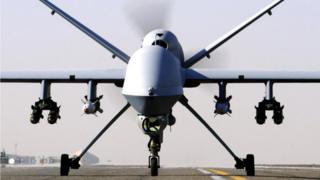 The UK will fly unmanned drones over Syria in the battle against Islamic State (IS) militants, the Ministry of Defence has confirmed.
Rivet Joint spy planes will also be authorised for surveillance missions.
Downing Street has said there will be no military action in Syria without a Commons vote unless there is an urgent humanitarian need.
The drones, which will also be used over Iraq, were based in Afghanistan.
In a written statement, Defence Secretary Michael Fallon said the Reapers and surveillance aircraft would be authorised to gather intelligence in Syria "as part of our efforts to protect our national security from the terrorist threat emanating from there".
The Reapers are not authorised to use weapons in Syria, he said, saying this would require further permission.
Prime Minister David Cameron has said MPs would have a vote before any military action was taken in Syria - unless it was an emergency or there was a threat of a humanitarian disaster - following the Commons' rejection of joining in air strikes in that country last year.
But BBC assistant political editor Norman Smith said the surveillance move would be seen as "mission creep" by some MPs.
A Downing Street spokeswoman said the government believed use of the drones was legal on the grounds of national and collective self defence.
She declined to say whether the UK had discussed their deployment with the Syrian government of President Bashar al-Assad.
The US-led anti-IS coalition has been carrying out air strikes around the Syrian town of Kobane, which has been the scene of fierce fighting between IS militants and Kurdish fighters.