Man thrown out of Commons at Prime Minister's Questions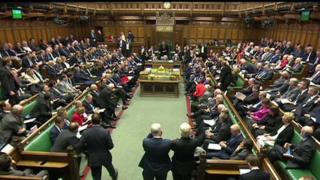 A man was removed from the public gallery in the House of Commons after a disturbance during David Cameron's weekly Prime Minister's Questions.
The man was led away by door keepers, according to journalists sitting on the press benches opposite.
Objects - reportedly marbles - were thrown against the transparent shield in front of the gallery but did not reach the chamber below.
The incident did not disrupt the session which focused on the NHS.
Conservative MP Mark Pritchard tweeted: "Man taken hurriedly out of Commons public gallery. He threw something at the glass protective screen. Public and Members appear all OK."
A Commons spokesman said: "Following a disturbance in the public gallery during Prime Minister's Questions today, a man was escorted from the gallery by doorkeepers and is currently in Metropolitan Police custody.
"The incident did not disrupt the business of the House and there were no injuries sustained."