Rents for military accommodation to rise, says minister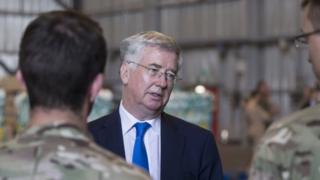 The monthly rental payment for a large number of military homes will increase, the defence secretary has announced.
Michael Fallon said that under the current system more than half of such properties were not being charged the "appropriate rate".
Mr Fallon estimated that the rents would rise by approximately £20-£30. The top rate of rent will not change.
Labour called on Mr Fallon to treat armed forces and their families "with the respect their service deserves".
The increased revenue from rent will be used to improve service accommodation, Mr Fallon said.
'Objective system'
The decision to introduce the reforms comes after a series of government reviews of military housing, as well as consultation with the Army Pay Review Body.
In a written statement to MPs, Mr Fallon said those on the "lower end of the scale" would see charges "gradually increase over a number of years".
But, he said, they will "rise at a set annual rate that is scaled according to rank and property type".
Explaining the shift to what he called a "modern, objective system", he criticised the current system for using "out-of-date methods that are no longer relevant to modern living".
He also said it was so "complex and subjective that it is difficult to achieve consistent and regularly updated assessments".
'Sound footing'
Over an 18-month period, each service home will be assessed via a survey to determine its appropriate rental cost.
Plans were also outlined providing that from April 2016 no service home would fall below the Decent Homes Standard set by the Department for Communities and Local Government.
Mr Fallon said "the new charging system is simpler, fairer and will help to put our service accommodation on a sound, long-term financial footing that will enable enhanced future investment".
Labour shadow defence secretary Vernon Coaker said: "Under this government, thousands of soldiers have been made redundant and our servicemen and women have seen their pay and conditions deteriorate.
"And now the defence secretary says that our armed forces and their families should pay higher rent for basic service accommodation."
He added: "It's about time the defence secretary stood up for our armed forces and their families, and ensured they are treated with the respect their service deserves."