Apples helped me lose 5st, says Labour's Lord Falconer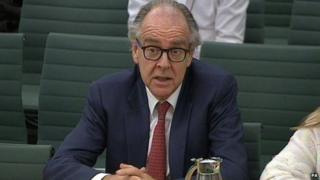 Former Lord Chancellor Lord Falconer has revealed that he lost more than five stone by giving up most meals for a mixture of apples and diet cola.
The 62-year-old Labour politician went from 16st 6lbs two years ago to 11st 5lbs, he told the Sunday Times.
He missed breakfast and lunch, then had a "normal" dinner, while also doing a 45-minute jog most days.
Lord Falconer said he had given up tea, coffee and alcohol but feared he had "become addicted" to diet cola.
As a lawyer, he said he had found it hard to lose weight because of the regular dinners those of his profession were expected to attend.
He added: "I just thought: you're about to fall over a cliff. There will be no going back. You'll be fat for ever. I felt between 1997 and 2007 that I was the only New Labour minister who would drink at lunchtime."
The peer now gets plenty of vitamin C from his large apple intake.
"The big downside consequence is that I have become addicted to Diet Coke," he said. "I might drink eight or nine of them a day."
Former Conservative Chancellor Lord Lawson also lost five stone during the 1990s.
He later released a book on how he achieved this, saying the reason was not vanity but reducing pressure on a bad knee.