Lib Dem Andrew George urges 2015 'pacts' with Greens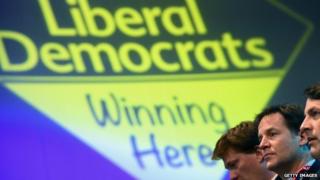 A Liberal Democrat MP has called for his party to form local "arrangements or pacts" with the Green Party for the 2015 election.
Andrew George, formerly the party's environment spokesman, noted that the Lib Dems had a history of such tactics.
Citing the example of Martin Bell in 1997, Mr George said such pacts were "well worth looking at".
Mr George believes such a strategy would minimise the prospect of a majority Conservative government.
He told BBC Radio 4's World at One: "If the alternative is something so grey and dark and foreboding and dismissing of the environment as 'green crap' - actually we do need to actually think intelligently ourselves about our strategies."
But Caroline Lucas, former Green leader and currently the party's only MP, was not receptive to the idea.
She told the BBC that as long as the Liberal Democrats are "going in exactly the wrong direction on everything from fracking, nuclear power, and nuclear weapons, then I don't think that's got much traction."
'Compete, not concede'
A YouGov/Sunday Times poll on Sunday 26 October reported 7% of respondents as saying they would vote Liberal Democrat, against 6% saying they would vote Green.
YouGov president Peter Kellner said this showed the Greens' success in the European elections in May "wasn't a flash in the pan".
He added that the Greens were "taking votes from the Liberal Democrats far more than anyone else."
But Liberal Democrat party president Tim Farron said that although he welcomed "as many parties as there is room for" in British politics, he wants to "compete with their ideas, not concede to them".
Pressed by the BBC's Shaun Ley over his party's history of stepping aside in certain seats, Mr Farron said such actions were in "very special circumstances", and were not supposed to indicate a general support of independent candidates.
He also claimed it would be "very foolish and complacent not to be aware" that the only 'green' party capable of influencing the policies of the next government was the Liberal Democrats.