Norman Baker resignation: Reaction and analysis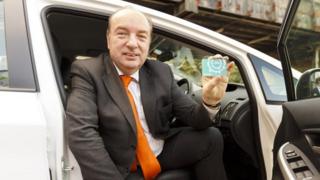 Liberal Democrat MP Norman Baker's resignation as a home office minister has sparked plenty of reaction from across the political spectrum.
There has been praise for his achievements, an examination of how Theresa May runs the Home Office and what his resignation says about the state of the coalition.
His departure follows a public spat with the home secretary over the UK drugs laws, which Mr Baker wants liberalised. There had also been battles over immigration.
His party's president Tim Farron told the BBC that the coalition was working in other parts of government, just not at the Home Office.
"It's sensed around the rest of government on both sides of the coalition, that Theresa May behaves as though the Conservatives won the last election - and they didn't," he said.
Alan Travis, the Guardian's home affairs editor, said Mr Baker was the latest Lib Dem to fall foul of the Home Office.
"As first Lynne Featherstone, then Jeremy Browne and now Norman Baker found to their cost, Theresa May's Home Office has never really recognised the existence of the coalition," he said.
Sam Coates, Times deputy political editor, tweets: "Norman Baker's resignation fairly significant because he is first to resign claiming - unhelpfully for Clegg - coalition just isn't working."
Ian Dunt, from website politics.co.uk, said critics writing Mr Baker's ministerial epitaph would remind everyone about his "weakness for conspiracy theories" and mock his rock band.
"But despite all the jokes, Baker accomplished more in one year in the Home Office than most people do in their entire career," he said.
"Baker went into the Home Office as the Liberal Democrat's man. He performed that task with aplomb, forcing through an international study of drug policy - an investigation long-resisted by the department because it suspected it would show its policy caused harm."
Writing in the Guardian, Simon Jenkins agreed that Mr Baker had achieved more than most ministers in "that benighted department".
"Where Baker has performed a service is in the cause of his resignation, the difficulty of stimulating a sane debate on drugs in Britain," he said.
Tessa Munt, Lib Dem MP for Wells, tweets: "Very sorry to see @NormanBakerMP go. Strong liberal voice of reason & principled champion of evidence based policy making."
However, Labour's shadow home office minister Diana Johnson said Mr Baker's resignation had nothing to do with principle.
"They (the Lib Dems) will be judged on their actions in government where their record is one of failure having backed the Tories all the way," she said.
"If it weren't for their support and votes, nothing David Cameron and Theresa May have done would have been possible."
Minister of policing and Conservative MP Damian Green told the BBC it was a matter of personalities and not policies.
"He regarded himself as being on a par with the home secretary and asked for papers from other ministers, he wanted to check what everyone else was doing," he said.
"The world doesn't work like that. If you are a minister of state, in the end you work for the secretary of state in that department."
In Mr Baker's resignation letter, he said it was "particularly challenging being the only Lib Dem in the Home Office", referring to a newspaper which likened it to being "the only hippy at an Iron Maiden concert".
Mr Green continued the musical theme: "The more appropriate analogy is that he was a guitarist who was only interested in his own solos while the rest of the band was trying to play a close harmony number."
Mr Baker has been a minister for four and a half years - first at the Department for Transport and more recently at the Home Office.
Former transport minister and ex-Conservative MP Steve Norris tweets: "Norman Baker was a good transport minister and most were sorry to see him go. Clegg's mistake was to move him. The result was inevitable."
Mr Baker, 57, will remain as MP for Lewes, where he is defending a majority of 7,647.
Conservative agent Andrew Kennedy tweets: "Can't help but think Norman Baker's resignation is more to do with @mariacaulfield 's strong campaign against him than political principles!"
Mr Baker's role as minister of state for crime prevention covered many issues, including drugs, child sexual exploitation and domestic violence.
John Mann, Labour MP for Bassetlaw, criticised the timing of his resignation, which came as the government grapples with trying to set up an inquiry into historical child abuse.
He tweets: "The self indulgence of child abuse Minister Norman Baker resigning at this crucial time is breathtaking, people of Lewes you know what to do."
In the traditional letter of reply to the resignation letter, Lib Dem leader Nick Clegg thanked Mr Baker for the "brilliant job" he had done as a minister.
"In both posts you have proved yourself as one of the most effective ministers in government: always determined to deliver a more liberal agenda for Britain, by consensus where possible but by confronting vested interests whenever necessary," he said.