Tories 'set to lose' Muslim vote in 2015 says Warsi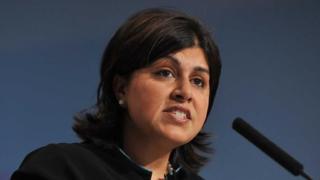 Conservative peer Baroness Warsi has said her party has effectively acknowledged it will lose the Muslim vote in next year's general election.
Asked if the Conservatives were "dead in the water" with regard to Muslim voters next May, she told the BBC this was "a pretty fair assessment".
She said "a whole series of decisions", particularly the UK's response to this summer's Gaza crisis, were to blame.
Lady Warsi resigned as a Foreign Office minister in August over Gaza.
Responding to a question on the BBC's Asian Network, she agreed that the Conservatives were almost certain to lose 'the Muslim vote' next May and would have to work to regain it for the 2020 election.
Pressed as to whether the Tories have "given up" on earning Muslim votes, she said the party's leadership "realise a whole series of decisions have made it incredibly difficult" for Conservative candidates to "justify their position" in Muslim communities.
She added that "it's really hard to go out and campaign in those communities right now", but denied she had "toxified" the Conservative brand in the eyes of Muslim voters by resigning.
She also said that the Conservatives were finding Indian Hindu communities "easier to penetrate electorally", and were targeting those areas instead.
Lady Warsi spoke at length about the reason she left the government, and discussed the tactics she had pursued shortly before resigning.
'Wrong side of history'
Despite rhetoric promoting a human-rights agenda and international co-operation, she suggested the government had "parked all of that" during this summer's conflict between Hamas militants and Israel which left more than 2,200 people - mostly Palestinians - dead.
The government, she claimed, "couldn't even find the language to condemn" Israel's actions, a view which has been disputed by ministers.
She said those who refused to speak out against Israeli actions would be proved "on the wrong side of history", comparing them to those who had called Nelson Mandela a terrorist during the 1980s.
However, she urged the Muslim community in Britain "not to define its politics" by the issue of Palestine.
She said she "would like British Muslims in their droves to get involved in the Conservative Party and over time change this policy".
And she reiterated her support for the party's economic plan and said they were still the "party of aspiration".
Challenged as to how she could reconcile her continued support of a governing party with having resigned from the government, she said that politics was defined by the "interplay between idealism and pragmatism".
During her time in government, Lady Warsi was the first female Muslim to attend meetings of the cabinet.
Having previously served as Conservative Party chairman, she was appointed as minister without portfolio in May 2010 before moving in September 2012 to become minister of state at the Foreign Office, and minister for faith and communities.