Northern commuters are in 'cattle trucks', says Clegg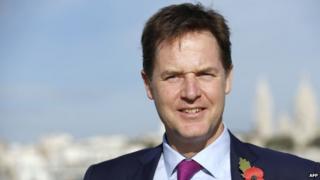 Commuters in the north of England are travelling in "cattle trucks that would be deemed unfit in other parts of the country", Nick Clegg has told the BBC.
The deputy prime minister is hosting a summit calling for investment in rail and road links in the north.
He also told the BBC a right-wing "lurch" by the Conservatives was to blame for "tensions" in the coalition.
The Conservatives and Labour also back long-term investment in transport infrastructure in the north.
Mr Clegg said the trains between cities such as Leeds, Manchester and Sheffield were a constant source of complaint and that they were holding the economy of the region back.
"There are thousands boarding these so-called 'pacer' trains. There is nothing pacy about them at all. They are cattle trucks on wheels.
"I have, for the last four-and-a-half years, been day-in, day-out pursuing new powers to the north on an unprecedented scale," he said.
Mr Clegg made clear he was speaking as the host of a summit of Northern business leaders, rather than announcing government policy.
But he said that he had been making his case within government and hinted that an announcement could be expected in the chancellor's Autumn Statement later this month.
Specifically, Mr Clegg is calling for:
A fully upgraded and electrified network between Manchester, Leeds and Sheffield by 2025
Improved rolling stock on non-electrified commuter lines by 2025
The whole of the M62 to be made into an eight-lane motorway by using the hard shoulder for traffic
The Woodhead Pass between Manchester and Sheffield to be upgraded
A more coherent tourism strategy, backed by £10m in possible funding
Mr Clegg says cross-Pennine rail routes between major towns and cities in the north of England, used by 25 million people a year, need upgrading now to reduce journey times and cut overcrowding.
He denied that he was electioneering to win votes in his Sheffield constituency, insisting he had been campaigning on the issue for years.
When asked about tensions in the coalition after the resignation of Lib Dem minister, Norman Baker, he said there were "pinch points", accusing the Conservatives of a "right-wing sort of lurch".
"Whatever the changes the Conservative Party has embarked upon as they chase UKIP to the right, whatever they decide to do, we will anchor this government in the centre ground and we will see the parliament through until May of next year," he said.