Cameron finds 'common ground' in talks on EU migration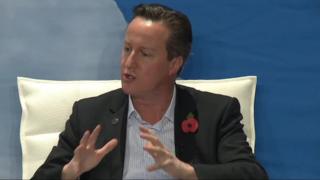 David Cameron says he has held "a very solid discussion" with his counterparts from northern Europe on the issue of the free movement of people.
The prime minister wants to limit EU migration as part of his bid to reform the union ahead of a referendum.
Speaking at a summit of northern European leaders in Finland, he said there had been "different perspectives" when the issue was discussed.
Three Nordic country leaders had warned against changing the "holy" principle.
It has been reported that the UK could seek to apply an "emergency brake" to reduce net migration - the difference between those entering and leaving - after it reached a certain level, or to limit the number of National Insurance numbers issued to new arrivals.
'Big pressures'
Both ideas have been met with scepticism by the European Commission and by Germany's leader Angela Merkel.
And Danish Prime Minister Helle Thorning-Schmidt told the BBC that while each state should have its own welfare rules, any discussion had to be based on "the idea that we all want free movement of labour".
She said she favoured "practical solutions" rather than treaty change to tackle the issue.
The Northern Future Forum brings together the leaders of Nordic countries - Finland, Denmark, Sweden and Norway - together with the Baltic states, Latvia, Lithuania, and Estonia, and Iceland and the UK.
The prime ministers discussed the issue of free movement over dinner on Thursday night.
BBC political editor Nick Robinson said Mr Cameron had tried to convince the leaders he was not looking for "some political fix" and had stressed that immigration affected other nations, telling the Lithuanian prime minister that 6% of the population of his country lived in the UK.
Speaking at a press conference alongside the other leaders, Mr Cameron said some countries had growing populations while others' had reduced, meaning some faced "very big pressures" from migration, while others "require very big migratory flows".
But he said: "I think there was common ground last night on a number of points."
Some "problems and issues" had been identified in relation to welfare and benefits, he said, but "all of the countries around the table last night said that was something that should be looked at".
Finnish prime minister Alexander Stubb, who said they had discussed free movement for an hour and a half, reiterated there were four "holy" freedoms in the European Union, of goods, services, money and people.
But he echoed Mr Cameron's comment that these were not "unqualified", and said this was not "an anti-immigration message".
Asked about his support for Britain's EU membership, Mr Cameron said he thought people would want to stay in a "reformed and changed" union.