Theresa May wins and loses in the Commons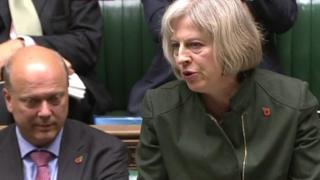 How do you win a vote in the Commons and yet lose at the same time ?
How do you give MPs a vote on a crucial issue only to be attacked from all sides for not giving them a vote at all ?
How do you woo potential rebels yet find they're furious about the way they've been treated?
Those are questions the home secretary must be asking herself.
Weeks ago she was warned that she faced a rebellion of over 100 Tory MPs over her decision to sign the UK up to the controversial European Arrest Warrant which allows suspected criminals to be extradited at a speed from other EU countries to here and vice versa.
Theresa May spent many hours trying to convince them that this was a law and order issue and not an example of Brussels interfering too much once again.
Her aim to squash a huge backbench rebellion came just a couple of weeks before a vital by-election caused by a Tory defector to UKIP.
Yet in the space of a few hours the Speaker ruled that the government's motion was not a vote on the arrest warrant at all and accused her of failing to honour her commitment to give one; Tory backbenchers protested at what they called chicanery, and the opposition formed an alliance with Conservative rebels which almost defeated the government.
The curiosity of it all is that on the issue in question, the arrest warrant itself, Mrs May had won the argument and would have easily won the vote - if, that is, she's ever actually had one.