William Hague laughs at 'premature' talk of peerage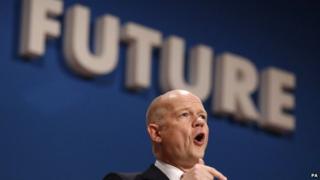 William Hague has said suggestions he will become a member of the House of Lords after stepping down as an MP next year are "definitely premature".
The former foreign secretary was teased about the prospect during an appearance before a committee looking into the governance of the House of Commons.
He was talking about the scope for the Commons and Lords to share resources in future, including over rebuilding work.
He laughed off suggestions that he was "already going down the corridor".
Responding to a remark by Democratic Unionist MP Ian Paisley that he could be given a peerage, Mr Hague said "speculation about that would definitely be premature".
Writing biographies
Mr Hague, who is currently leader of the House of Commons, is leaving Parliament at next May's general election after more than 25 years in the Commons.
The former Conservative leader has said he wants to spend more time with his family and pursuing other interests outside politics, including writing historical biographies.
Several of Mr Hague's predecessors and successors as Conservative leaders, including Margaret Thatcher and Michael Howard, were elevated to the House of Lords but Sir Edward Heath and Sir John Major are among others not to have become peers.
Mr Hague said he had had informal talks with his counterpart in the House of Lords over closer administrative working in future but no detailed plans had been drawn up, saying this would be a matter for their successors in the next Parliament.
'Leaking toilets'
But he said the future restoration of the Palace of Westminster was going to be an "immense task", which would require co-operation between both Houses of Parliament.
MPs have said years of rebuilding work will be required to address structural and electrical deficiencies in the building, most of which dates back to the mid-19th Century. This has led to suggestions that MPs and peers could move to an alternative site for a number of years.
Meanwhile, Liberal Democrat John Thurso, speaking on behalf of the House of Commons Commission, told MPs the repair plans - which could cost £7m in consultants' fees alone - would be put before the Commons and the Lords in the spring of 2016.
Mr Thurso said "significant refurbishments" were needed on buildings located in the northern area of the Parliamentary estate to deal with "leaking toilets, rodents and other problems".