Ed Balls shrugs off three-point Conservative lead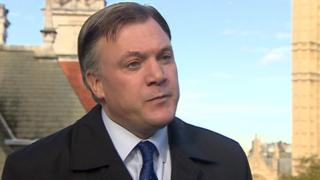 A poll which suggests the Conservatives have taken a three-point lead over Labour has been shrugged off by shadow chancellor Ed Balls.
"The only poll that matters is the general election," he told the BBC.
The Ipsos Mori survey for Evening Standard, puts the Conservatives up two on a month earlier at 32%, Labour down four at 29%, UKIP down two on 14%, Lib Dems up one on 9% and the Greens on 7%.
The phone poll of 1,011 adults across the UK took place from 8-10 November.
The 3% lead for the Conservatives is their biggest advantage in the poll series since 2010.
The poll also suggested that the percentage of people who agreed with the statement that Ed Miliband is ready to be prime minister was down from 22% in June to 13%.
Mr Balls dismissed the poll, telling the BBC: "These polls have been bouncing about day to day, week to week, month to month.
"We've had polls like that in the last few months and had polls which have put Labour three or four points ahead."
On Mr Miliband's leadership he said: "We have got the policies. I think with Ed Miliband's leadership we can persuade people we've got the plan to make our economy strong and secure for the future."