Clegg: Tories are 'tearing up' their manifesto over foreign aid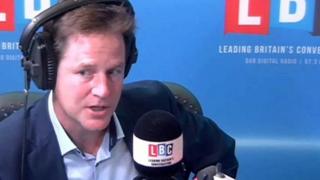 Nick Clegg has urged his coalition partners to honour a pledge to enshrine the UK's foreign aid target in law.
Legislation to commit the UK to spending 0.7% of national income on aid was in the 2010 Conservative manifesto and in the coalition agreement.
But Foreign Secretary Philip Hammond called the pledge to legislate "bizarre", saying the aid target was already being met.
Lib Dem leader Mr Clegg said the Tories were "tearing up" their own manifesto.
Lib Dem MP Michael Moore has tabled a private member's bill to enshrine the aid commitment.
The bill has government support, but it is not guaranteed to pass through Parliament.
Meanwhile, the foreign secretary has questioned the need for a bill.
"Trying to enshrine it in law - it's a bizarre idea," Mr Hammond told the Telegraph.
"Somebody says, 'Shall we have a law that says you've got to build a building?' In the meantime, we built a building. Someone comes along and says, 'Now we've built it, shall we pass the law which says we've got to do it?'
"We've done it. We're doing it. You don't need a law to say we're doing it."
But Mr Clegg, the Deputy Prime Minister, told his LBC radio phone-in: "What is a little bizarre is that the foreign secretary, a Conservative, should go to Sierra Leone to tear up his own manifesto.
"It was actually in both our manifestos. Because it was, we both put it in the coalition agreement. And here you've got a Conservative foreign secretary who goes to an Ebola-affected part of the world and says that we somehow shouldn't deliver his own party's own manifesto commitment."
A government spokesman said: "The coalition remains committed to investing 0.7% of our national income in overseas development.
"As part of this, we will continue to support the private member's bill going through Parliament, which looks to enshrine this commitment in law."